The result of our Step2Love.com review: Our test on Step2Love.com turned out to be an insufficient dating website.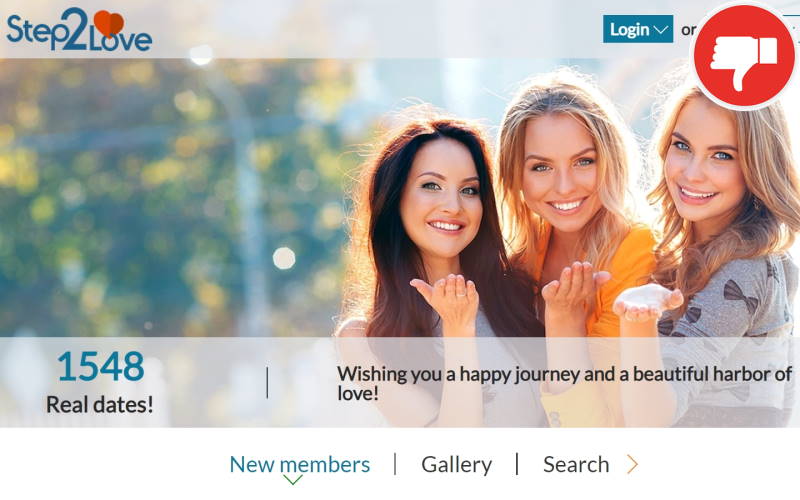 Reports about fake profiles

Many hints for unreliable website
Report for Step2Love.com review
Step2Love.com claims to be a solid online dating service. This platform is for men who are looking for Russian or East European women. So, if you are a woman who is not from this region and you are seeking a man, this website is not your first choice. We also found some negative reviews on the internet which mention a scam.
We found some reports about fake profiles and high costs. High costs will occur, that is true. But that is not enough to call this website a rip-off. However, the website advertises with profiles which appear to be fake. Those profiles appear to be images of professional models. So, the site does not appear very reliable. The operator of the site is Sonteri Ltd, who are based in Birmingham, in the UK.
Scroll down to read the details of our Step2Love.com review.
We recommend one of our winners!
We recommend one of our winners!
Details on the Step2Love.com review
Step2Love.com has a special offer. Here, you can find a match for a Russian or Eastern European to marry. That is a high target for a matchmaker. It is hard to provide a service which connects people online only and arrange all that is needed to make the way to a happy marriage. However, the appearance of the site is modern. On the landing page, we see some good-looking profile pictures. However, as we see it, such women usually do not need a service to find a man. Registration is free and done in a few minutes.
The profiles on the homepage look like fakes
The online dating site Step2Love.com advertises with a solid offer. The registration is free plus the members´ pool seems to be packed. This website is a dating service for men who are looking for a woman from Russia or Eastern Europe. The goals are love and a happy marriage. That is a high expectation and not easy to reach. However, the operator claims that the service works out perfectly. On the landing page, we see some successful love stories. Also, we see some profile pictures of current members. Those profiles show women who look like professional models.
However, those profiles are fake. Women like that do not have to join such a website to find a man. And, if so, then they do it for money and not for love. Plus, the profile pictures show very attractive women, but the successful love stories show average women. In our point of view, the profiles are fake. We did some research and read some reviews about fake profiles as well. Some former users had the same experience. However, the operator does not mention fake profiles in the terms and conditions. So, the proof is missing.
This website is not reliable
There are many hints that suggest this is an unreliable website. In general, the offer of the site might sound interesting. But to find a match online who you want to marry is difficult. So, the goal of the site is not easy to reach. Plus, the website will charge a lot of money. However, it does not appear reliable. In the end, we cannot recommend this platform. Also, their reputation on the internet is mixed. As we see it, some of those reviews are fake.
On the internet, we found positive and negative reviews. The experience of former users varies. There might be some good reports about the site. But we cannot exclude that those are real. Most of the positive reports are only one comment made by someone on different review platforms. Also, we know that costs occur after the registration, but the chance of success is low. The general impression of former users is that you have a nice community to chat with, but no one to meet.
Contact details
Sonteri Ltd
First Floor
Cambrai Court 1229 Stratford Road
Hall Green
Birmingham, B2B 9AA
United Kingdom
[email protected]
Phone: +44 151 528 9398
How to cancel
To cancel your premium-membership, please contact customer support.
The conclusion from our Step2Love.com review
Step2Love.com does not appear trustworthy. We cannot call this website a scam, but the profiles on the landing page look fake. Free registration is advertised, but after that, high costs will occur. The reputation of the site is not good. Moreover, the success rate is not impressive. Even if this website is not a rip-off because a proof is missing, we still cannot recommend it.
Let us know your Step2Love.com experience in the comments as well.
We advise against registration and therefore recommend one of our winners!
We advise against registration and therefore recommend one of our winners!