The result of our iFlirts.chat review: Our test on iFlirts.chat turned out to be an insufficient dating website.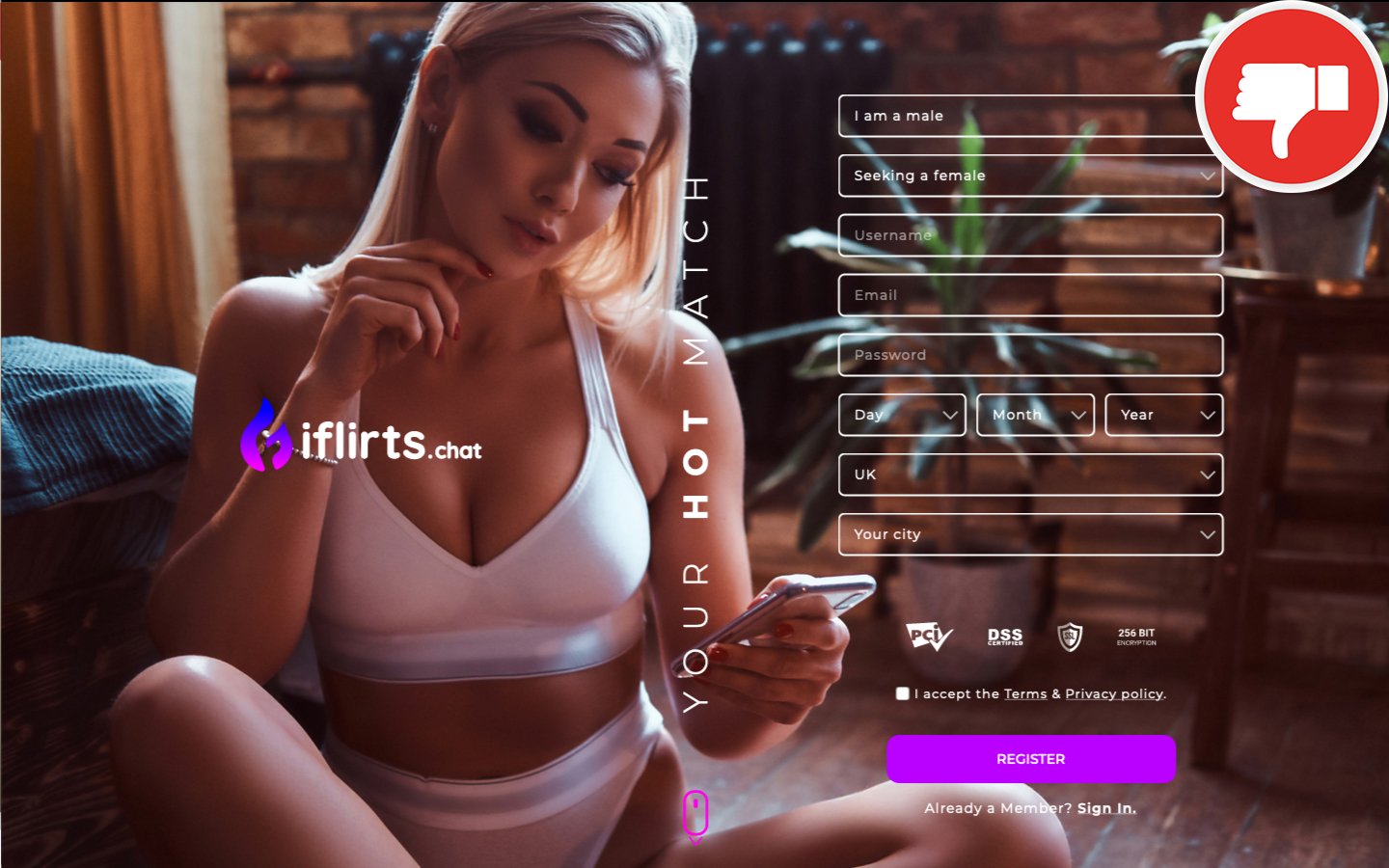 Report for iFlirts.chat review
iFlirts.chat advertises with free registration and the possibility of finding the perfect match. The landing page looks great. iFlirts.chat is a well-known dating site on the internet. The online reviews reveal that iFlirts.chat is in fact a scam that has cost many people a lot of money. The operator of iFlirts.chat is Svippy Limited. This company, which is situated in Maidstone is known to us.
Nothing on iFlirts.chat seems to work without "coins" which are virtual money. Coins are not only needed to unlock certain premium functions but also functions as basic and essential as the chat. The more messages a user sends in the chat, the more he must pay. Svippy Limited employs fake chat operators who seduce the users to make them spend more money. iFlirts.chat is what is called a fake chat scam.
Scroll down to read the details of our iFlirts.chat review.
We recommend one of our winners!
We recommend one of our winners!
Details on the iFlirts.chat review
The landing page of iFlirts.chat shows the photo of a good-looking blonde. Everything is well-designed and easy to understand. The operator manages to make the free registration as appealing as possible. We do not want to fall for whatever is claimed on the landing page. So, we do some additional research elsewhere. Apparently iFlirts.chat is known to be a rip-off, which has tricked many people so far.
iFlirts.chat has received countless negative reviews online. The positive reviews we could find online do not appear to be sincere. They do not really express what the dating site is like. According to the negative reviews, iFlirts.chat is full of fake profiles which try to steal your money.
In the terms and conditions, we find something that explains the existence of fake profiles
The website uses support staff to monitor and moderate the chat system, leading to chat dialogues and conversations with the users.
Fake chat operators work for the company responsible for iFlirts.chat. They are hiding behind the fake profiles. This allows them to approach the users, making them think that they are dealing with an attractive female member. The fake chat operators flirt with the users and entice them to send many messages. By doing so they help the operator, because users are required to pay money if they wish to send a chat message.
You must buy coins to chat
On iFlirts.chat you can purchase "coins" which are needed to pay for sending messages. Users report that the fake chat operators ask many questions to keep the expensive conversations going. Unfortunately, many users do not detect the fake profiles and fall victim to the rip-off.
The operator of iFlirts.chat is Svippy Limited. The company is based in the English city of Maidstone. This company has experience when it comes to fake chat scams and runs a big network of phony dating sites.
The conclusion from our iFlirts.chat review
iFlirts.chat is not what it seems to be. The dating site might look like a professional dating site, but it is just another fake chat scam operated by Svippy Limited. Many of the other members are in fact moderated fake profiles that serve a specific purpose. By flirting with the users, the fake chat operators manipulate them so that they are willing to pay for long-lasting and expensive conversations.
Let us know your iFlirts.chat experience in the comments as well.
We advise against registration and therefore recommend one of our winners!
We advise against registration and therefore recommend one of our winners!