The result of our xPress.com review: Our test on xPress.com turned out to be an insufficient dating website.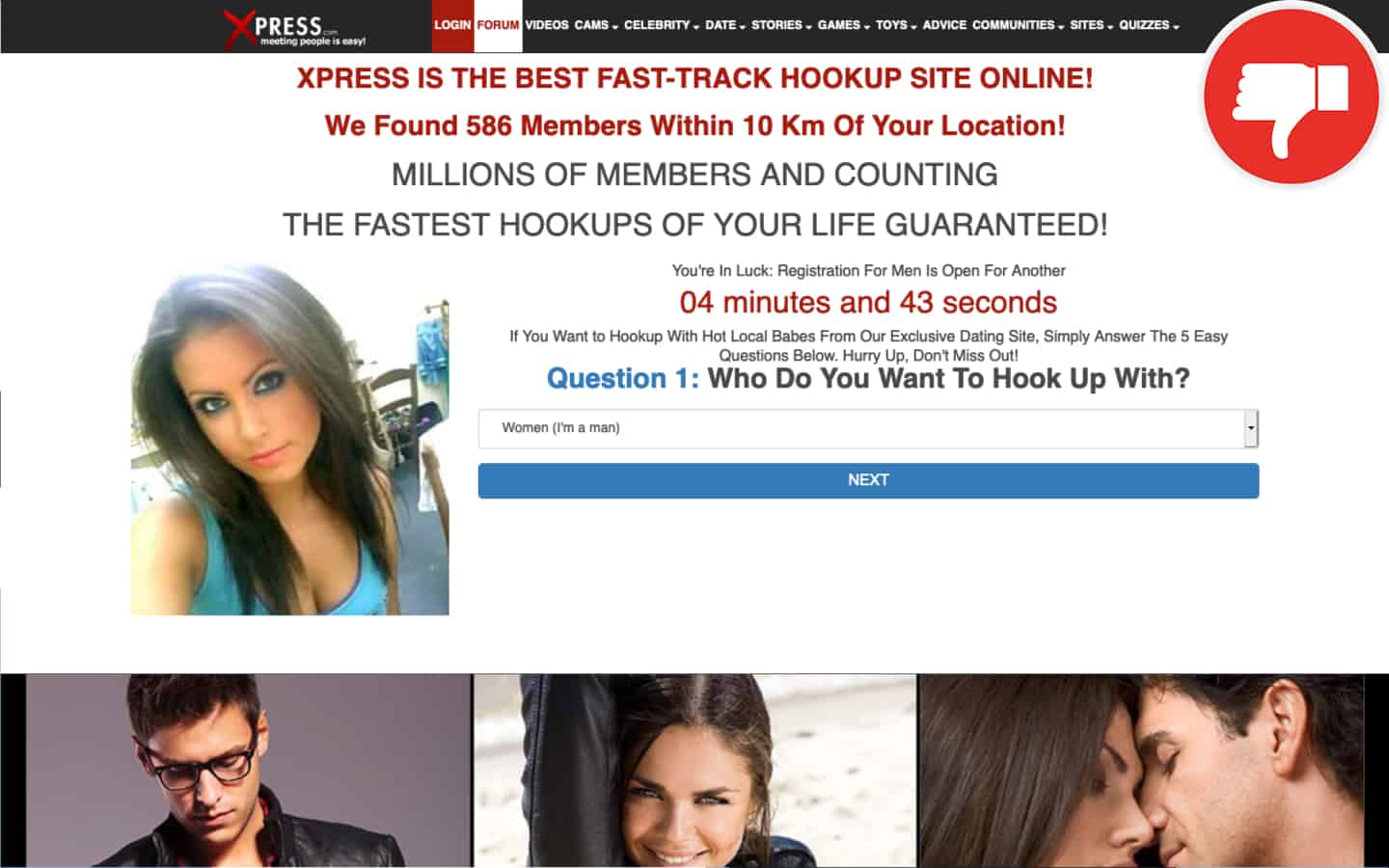 Report for xPress.com review
The dating portal xPress.com comes along with a modern, stylish design. A slideshow of attractive members and the impressive numbers of users arouses the interest of the first-time visitor. You can be sure to face a lot of explicit content once you have signed up.
A look at the term and conditions of this adult dating website, teach us that the operator is a company named Quad Strategy Ltd. from the small-town Stevenage in the United Kingdom. The corporation is well-known for managing online dating portals which are a big rip-off, and it turns out, that xPress.com is one of them as well. The Quad Strategy Ltd. once more is managing a moderated chat with faked profiles on this portal to lure people into expensive membership upgrades. The registration on this filthy adult dating portal is clearly the only thing what costs a member no money.
Scroll down to read the details of our xPress.com review.
We recommend one of our winners!
We recommend one of our winners!
Details on the xPress.com review
Looks like the company Quad Strategy Ltd., based in Stevenage, the UK has invested some money in the design of their sex dating portal xPress.com. Already the starting page comes with an impressively fresh and light interface and features. Beside adverting the free registration on xPress.com, the website claims to have won several awards and got many nominations. The member's pool has already more than 62 Million members and is counting.
Facebook like design animated to register. The sign-up process can be done in a few minutes, which is common and relatively fast. After the email verification, the member needs to fill out his profile. This is time-consuming because you have the possibility of uploading up to five photos and a lot of personal questions are asked. The checklist includes about 30 items, 13 personality questions and about 15 very intriguing questions about the member's sex life.
Once in the member's area, you find key features like video profiles, a 100 day get laid guarantee, a Facebook styled interface, chat rooms and messages. There is also a mobile application available for xPress.com.
All sounds and looks good on xPress.com, but it turns out that the portal is just another scam. There can be found many false, at least misleading information like "free registration" on the site. The enrolment is indeed free of charge, but anything else costs the user a lot of money. That the site is not really legit can also be proved by the fact that the portal is showing the member's city which was detected by IP and stating they have found hundreds of members nearby.
Another false information is that there are plenty of members looking for hot dates. There are not at all. The users will not have one real date because the member's pool is full of fantasy profiles.
The company Quad Strategy Ltd. calls the rip-off "ENVOY PROGRAM":
"14. ENVOY PROGRAM / ONLINE EMISSARY: xpress.com UTILIZES VIRTUAL PROFILES THAT DO NOT CORRESPOND TO ACTUAL MEMBERS:14.1 xpress.com encourages You to use the ENVOY PROGRAM / ONLINE EMISSARY service to enhance communications, entertainment and Your total site experience and enjoyment.
14.2 An ENVOY PROGRAM / ONLINE EMISSARY may be a digital actor, an avatar or a synthespian (e.g. a computer generated "person" or "character"). ENVOY PROGRAM / ONLINE EMISSARY may be employed by xpress.com or a third party to enhance Your online experience."
The website uses fake profiles which are operated by moderators to animate the member's to price but totally senseless communications. The user needs to upgrade his free but totally useless basic membership to answer all the faked messages from faked people. We could not find any evidence of a subscription scam on xPress.com, but it is clearly a faked chat scam.
Contact details
Quad Strategy Ltd.
ST MARGARETS,
ALBERT ROAD,
CHATHAM,
KENT, ME4 5PZ.
UK
The conclusion from our xPress.com review
Once more, the Quad Strategy Ltd, based in the United Kingdom, is operating an online dating website which is a scam. Even the Facebook styled portal makes a great impression it is nothing more than a moderated chat scam with fictitious profiles. There will be no real dates at all. The website is a waste of time and money.
Let us know your xPress.com experience in the comments as well.
We advise against registration and therefore recommend one of our winners!
We advise against registration and therefore recommend one of our winners!