The result of our SugarMummyDating.co.uk review: Our test on SugarMummyDating.co.uk turned out to be an insufficient dating website.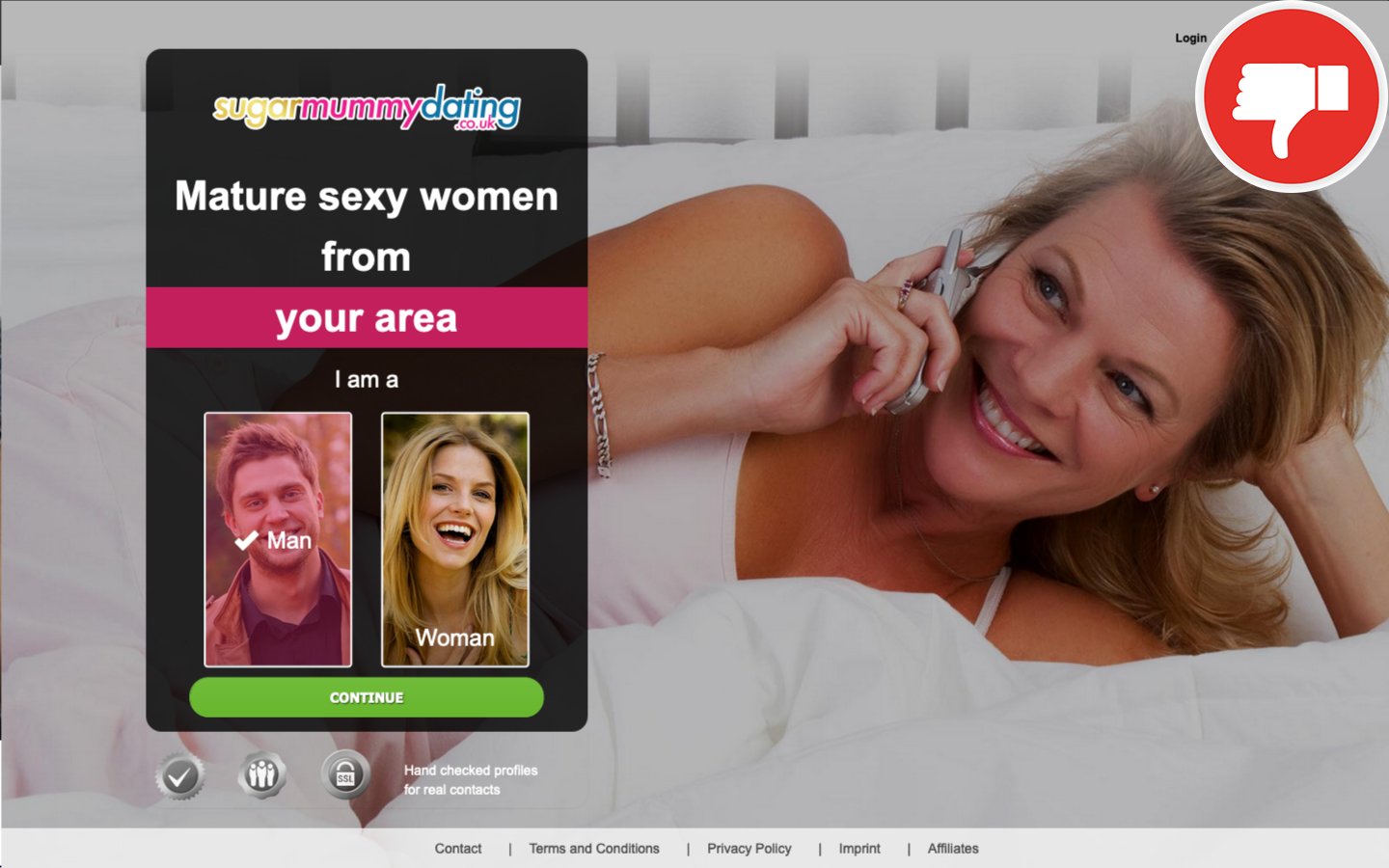 Report for SugarMummyDating.co.uk review
SugarMummyDating.co.uk is a dating site to meet mature women, and the registration is free of charge. It seems that you must sign up before you can find out more about SugarMummyDating.co.uk. The landing page does not offer sufficient information about the usage of the dating site. We decide to do research elsewhere, to figure out what SugarMummyDating.co.uk really is. This is not a legit dating site, but a subscription rip-off full of fake profiles.
Users of SugarMummyDating.co.uk cannot chat or view the profile photos of other members unless they upgrade their membership for money. The operator of SugarMummyDating.co.uk wants to make sure that many users pay for the VIP membership. This is where fake chat operators come into play. They lure the users into purchasing the membership, and canceling it is not easy. SugarMummyDating.co.uk is operated by Date4Friend AG based in Zug, in Switzerland.
Scroll down to read the details of our SugarMummyDating.co.uk review.
We recommend one of our winners!
We recommend one of our winners!
Details on the SugarMummyDating.co.uk review
The registration form is the only thing the landing page of SugarMummyDating.co.uk really shows. Signing up is easy and seems to be the only way to find out how SugarMummyDating.co.uk works. At first, nothing seems to work on this dating site. The operator quickly informs every user about the VIP membership that comes with several benefits. In fact, only VIP members can read and send chat messages. Upgrading your membership does not make any sense, because this site is a scam.
This site is run by Date4Friend AG, which is based in the Swiss town of Zug. Zug has the reputation of being the country's tax haven. Many scam operators can be found there. The Swiss company operates a big network of scam dating sites, and we have dealt with several of them before.
How the Date4Friend AG rips-off users
Since only VIP members can chat with others, using SugarMummyDating.co.uk as a regular member does not seem to make much sense. Regular members cannot even read the messages they receive, which makes it even worse. For some reason, every newly registered user receives several messages after just a short while. These messages are sent to them by fake chat operators, who are employees of Date4Friend AG. The more messages they send, the more tempted the users will feel to upgrade their membership and read what they say.
Beware of the subscription trap
We read through the few user reviews we could find online and find out about another kind of rip-off. The VIP membership on SugarMummyDating.co.uk is a subscription that comes with a cancellation period of 14 days. Apparently, it is not that easy to cancel your VIP membership. The operator often ignores cancellations made in time and makes the whole cancellation process extremely difficult. This means that SugarMummyDating.co.uk is not only a fake chat scam, but also a cheeky subscription rip-off.
The conclusion from our SugarMummyDating.co.uk review
Our experience with SugarMummyDating.co.uk was not delightful. The operator tries everything to make the users sign up for a paid membership. Apparently, fake chat operators play a big role in scamming the users. If you end up purchasing the VIP membership, it is almost impossible to get out of it in time. The operator makes sure of that by making the process of cancelling extremely difficult.
Let us know your SugarMummyDating.co.uk experience in the comments as well.
We advise against registration and therefore recommend one of our winners!
We advise against registration and therefore recommend one of our winners!