The result of our SinglesOver60.co.uk review: Our test on SinglesOver60.co.uk turned out to be an insufficient dating website.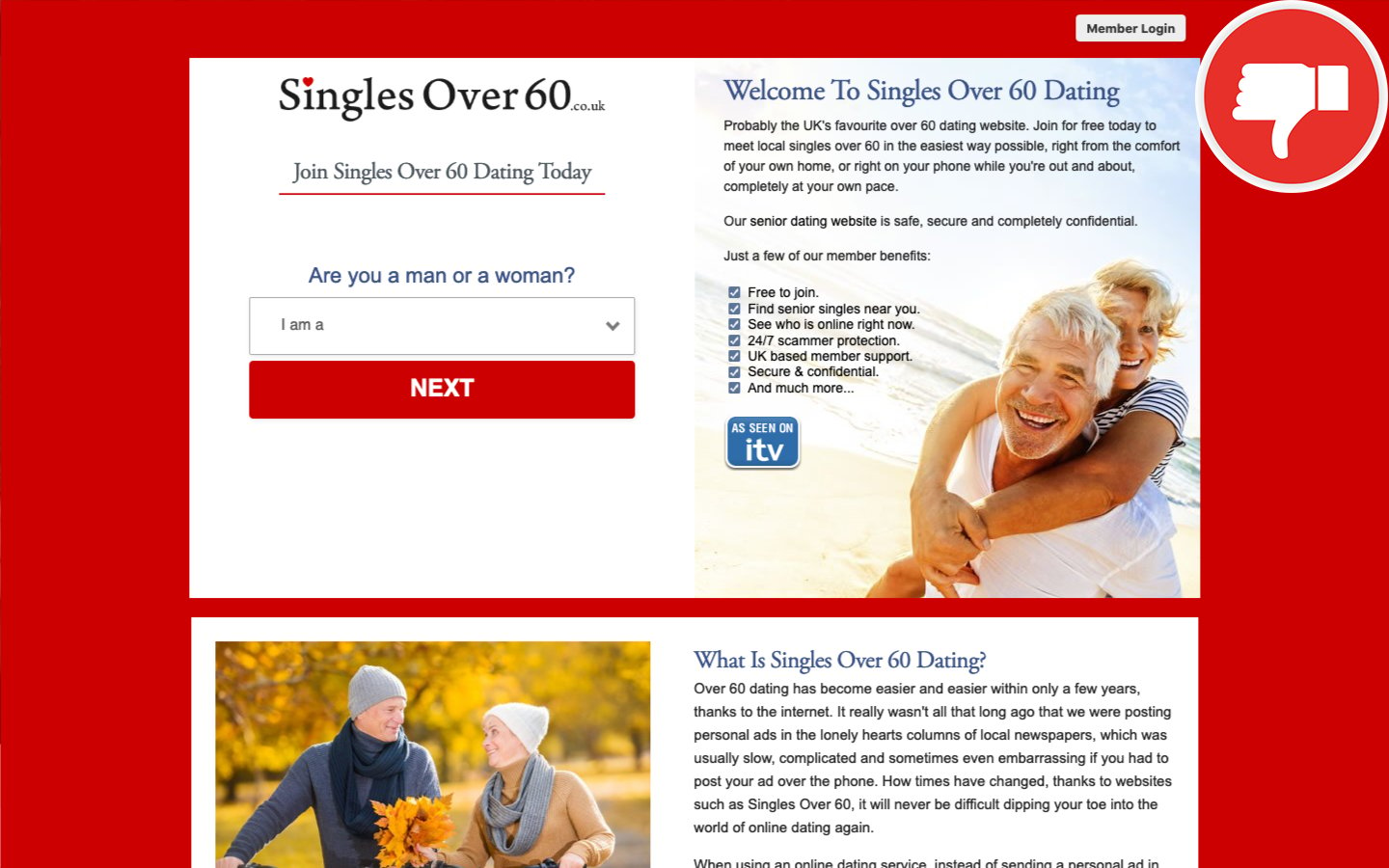 Report for SinglesOver60.co.uk review
The online dating platform SinglesOver60.co.uk, based in Slough, UK, advertises with free registration and a safe dating experience. The promise of safety seems to be based on protection from scammers, which is another reason the operator gives us for signing up. Ironically, Venntro Media Group Ltd has a bad reputation and is blamed for a scam by many.
According to numerous unsatisfied users, the dating platforms from this British company are full of fake profiles. Fake chat operators behind these profiles start several conversations with the users. This is a common trick used by scam dating platforms. Since the users pay money to use the chat, these fake chat operators turn out to be of good use for the operating company.
Scroll down to read the details of our SinglesOver60.co.uk review.
We recommend one of our winners!
We recommend one of our winners!
Details on the SinglesOver60.co.uk review
SinglesOver60.co.uk is a senior dating service that, according to the landing page, is the UK's favorite dating site. There is also a SinglesOver60 version for users in countries like Australia and the USA. They all claim to be favorites. We have a hard time believing the popularity of SinglesOver60.co.uk. Online we find several negative reviews that complain about a rip-off. After doing some research, we know exactly why. In this case, a closer look at the terms and conditions helps a lot.
This is where the operator admits the following
The Site is an entertainment service. Your use of this service is entirely at your own risk. You should exercise at least some degree of caution in evaluating what you see when involved in internet communication with people who are unknown to you (such as when you are using message services) and be aware that people may not necessarily be who they say they are and that people may provide information or behave in a way that is unreliable, misleading or illegal. By using this service you accept that any member profiles, messages and communication may not be genuine.
Entertainment service
Fake chat scams often use the term "entertainment service" to not scare potential users away. However, on SinglesOver60.co.uk, you never really know who your chat partner really is. Fake profiles are part of the platform. The operator gives control of these to fake chat operators. They can hide their identity by using them as a cover. The real users are supposed to fall for this trick. That is why the operator hides this fact in the terms and conditions, where few really take a closer look.
Only users that pay for their membership can use the chat function and interact with other members of the platform. This is what makes the fake chat scam work. The users receive many messages from the fake chat operators, not knowing who they are. This is done to make the paid membership more appealing. This membership turns out to be a subscription. It renews continually if it is not canceled in time.
Not our first experience with the operator
This is not our first encounter with Venntro Media Group Ltd. The company has its base in Slough, in the United Kingdom. The internet is full of negative reviews which do not have many positive things to say about the operator. Apparently, countless users have lost their money to the company that always seems to rely on moderated fake profiles.
The conclusion from our SinglesOver60.co.uk review
SinglesOver60.co.uk is not a legit dating service for seniors but merely a rip-off. Many users prefer to use a dating platform for free, which does not make much sense in this case. Since only paying members can send messages to others, the operator makes chatting as attractive as possible. They do this by employing moderators who hide behind fake profiles.
Let us know your SinglesOver60.co.uk experience in the comments as well.
We advise against registration and therefore recommend one of our winners!
We advise against registration and therefore recommend one of our winners!