The result of our ShagToday.co.uk review: Our test on ShagToday.co.uk turned out to be an insufficient dating website.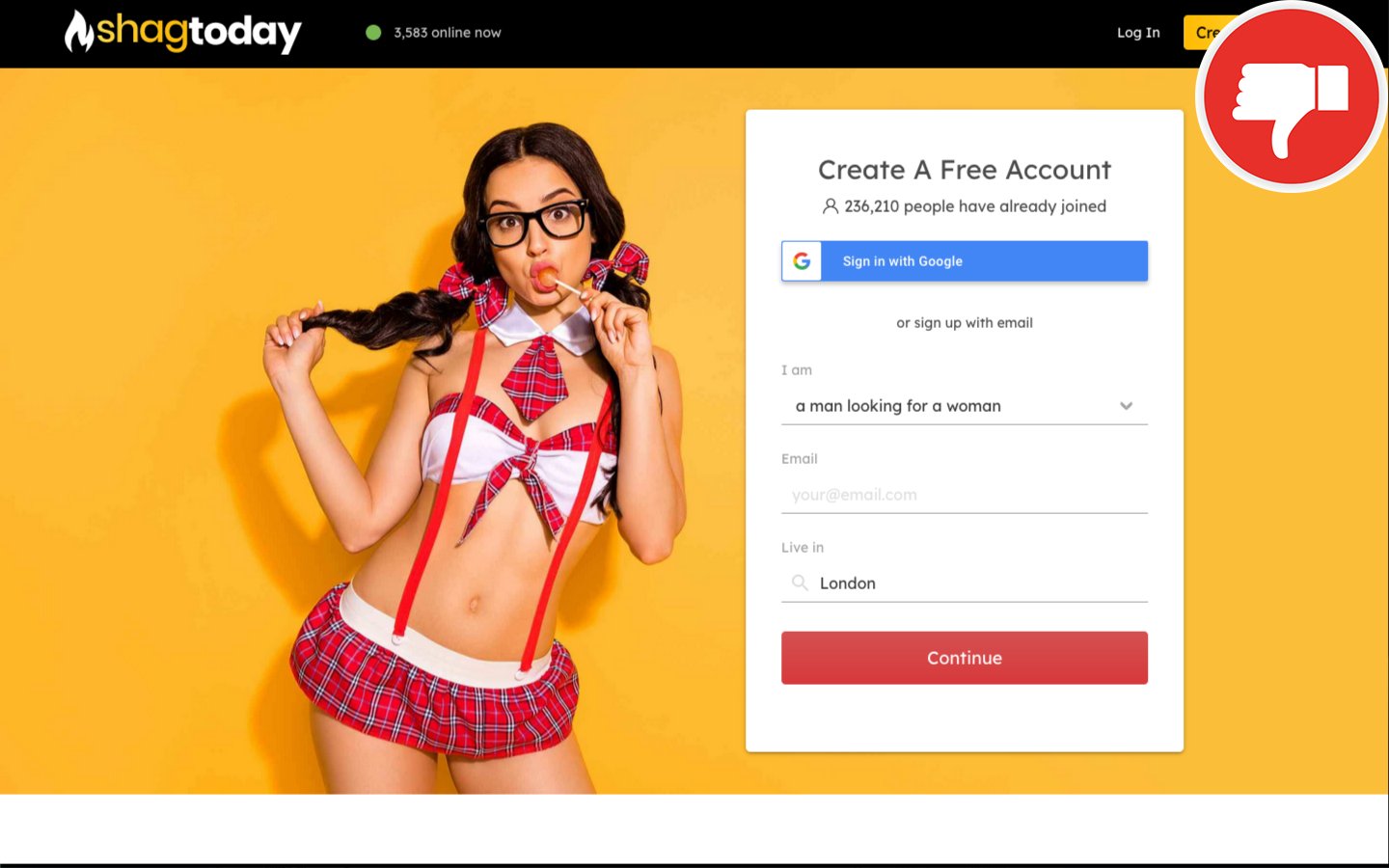 Report for ShagToday.co.uk review
The dating portal ShagToday.co.uk advertises with a free registration and a high number of active members. ShagToday.co.uk seems to be a rather new portal. It is almost impossible to find anything related to it on the internet. Nonetheless, taking a closer look at the portal reveals what is wrong with it. ShagToday.co.uk is a rip-off. The number of members is made up. The operator of the portal TRF Networks LLC, can just create as many fake profiles as they please.
The fake profiles on ShagToday.co.uk serve a certain purpose. They are given into the hands of fake operators. These operators make use of the provided fake profiles and their real identity is covered. In addition to that, they flirt to entice the customer to send many chat messages. Since the customer pays for every single message, the operator wins.
Scroll down to read the details of our ShagToday.co.uk review.
We recommend one of our winners!
We recommend one of our winners!
Details on the ShagToday.co.uk review
When you take a look at the landing page of ShagToday.co.uk, you get the impression that this is just another innocent dating portal. The operator advertises with a free registration and the following promise: "Sign Up, Get Unlimited Access And Start Chatting." Whoever reads this, tends to believe that by signing up you already get unlimited access to use the chat. However, this is not the case. The chat can only be used by those who are ready to invest money. We also found another interesting detail while observing the landing page.
You need to scroll down to the very bottom to find this:
"Our services are for entertainment purposes only."
This means that the operator does not even intend to provide a platform that makes real life dating possible. Any encounters the customer will have, will solely take place on the portal itself. The fake chat operators have no intention to reveal who they truly are. They simply pretend to be the attractive person that is portrayed on their profile picture. We did not find out about this fact only because of former users' negative reviews about the scam. We know about the existence of these self-created profiles because we read through the terms and conditions.
After discovering these two given points, we finally understood why ShagToday.co.uk is a scam:
"1. ShagToday.co.uk maintain a definite goal, it is clearly not the purpose of ShagToday.co.uk to fix meetings or dates in person.

TRF Networks LLC clearly reserves the right to communicate with ShagToday.co.uk in regards to self-created profiles. These are fictional profiles where physical bonds are not available."
 One could think that these fake profiles are created to make the portal more active and to create a method to entertain the customers. This however is not the whole truth. If the customer wishes to send a message or a wink to another member, he must make a payment. With his money he must buy a credit package first. The credits can then be used to enable the message function. A single message sent in the chat costs 100 credits, which is about equal to 2 pounds. If the fake operators know how to seduce the customer, the company that operates ShagToday.co.uk can sell many credits. This kind of rip-off does not only take place on ShagToday.co.uk. TRF Networks LLC, the company operating this portal, applies the same method on a dating site called HookUpToday.com. Unfortunately, we were not able to find out the company's exact location.
The conclusion from our ShagToday.co.uk review
Over 200,000 people have allegedly signed up on ShagToday.co.uk. We have every reason to believe that this number does not mean a thing. After reading the terms and conditions, we know that the profiles on this portal are fictitious and serve a different purpose. Since using the chat function is not free of charge, the fake chat operators using the fake profiles can entice the customer to pay.
Let us know your ShagToday.co.uk experience in the comments as well.
We advise against registration and therefore recommend one of our winners!
We advise against registration and therefore recommend one of our winners!