The result of our SexyMeets.club review: Our test on SexyMeets.club turned out to be an insufficient dating website.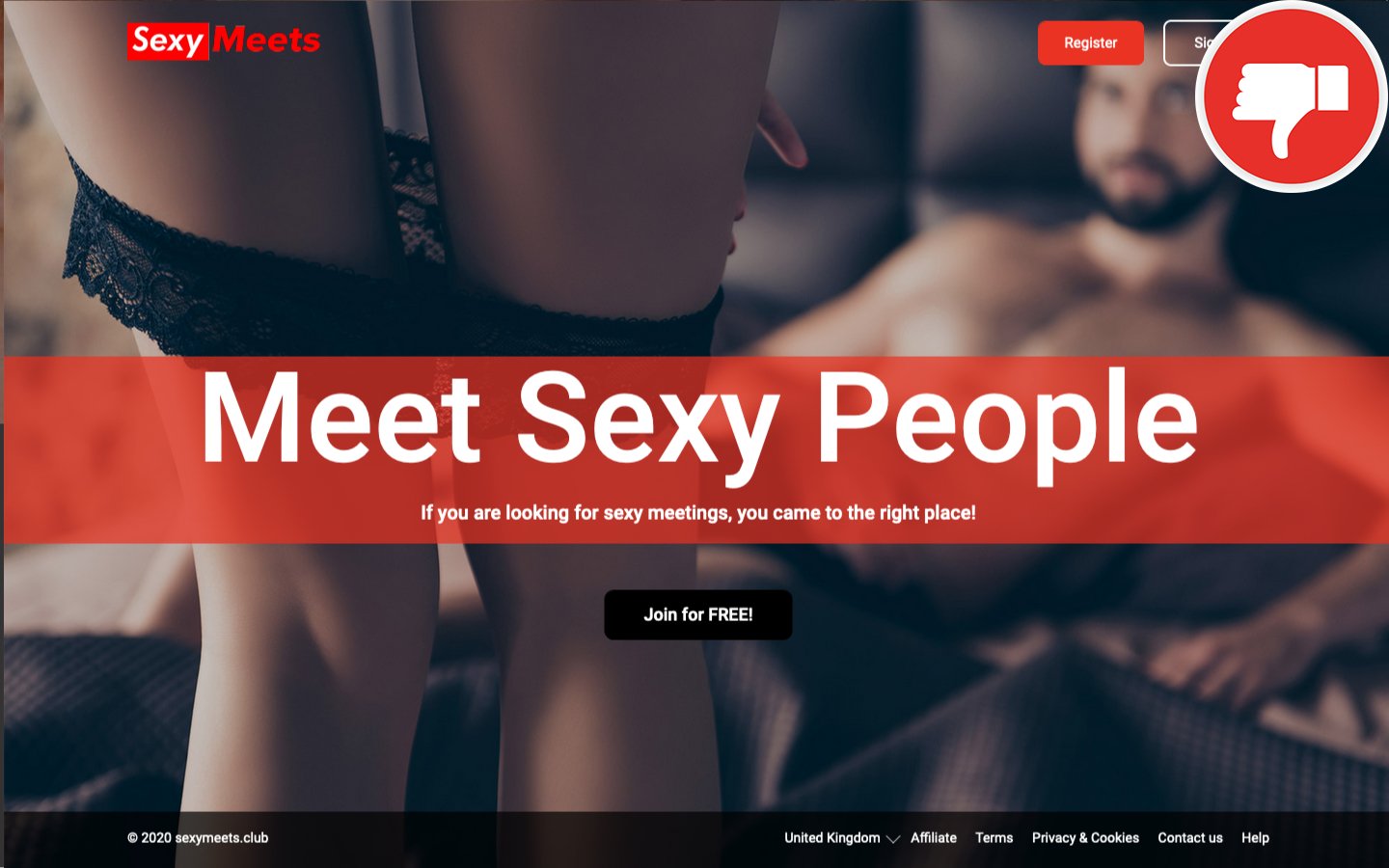 Report for SexyMeets.club review
SexyMeets.club advertises with a free registration and claims that it is the right place for anyone who is looking for sexy meetings. This statement is false, because it makes you believe that real life meetings are waiting for you here. The members' pool is full of fake profiles that can only be encountered online.
The notorious Svippy Limited, which has its base in Maidstone, is the company that operates SexyMeets.club. Just as we expected, the operator creates fake profiles to communicate with the users. Fake operators control the profiles and make the users enjoy their time on the website. SexyMeets.club is a fake chat scam and has caused discontent among its members.
Scroll down to read the details of our SexyMeets.club review.
We recommend one of our winners!
We recommend one of our winners!
Details on the SexyMeets.club review
We cannot see a lot on the landing page of SexyMeets.club but what is clearly visible is a slogan written on a red ground: "Meet Sexy People". It seems like it does not take more than this to convince people to sign up. The sexy people here are not what one might think they are. The profiles on SexyMeets.club are fictitious and created by the operator who is hoping to trick the users.
Before signing up you should always read the terms and conditions first. This is exactly what we did. As we were expecting to find a mention of fictitious profiles since we know that the operator that runs this scam website, creates plenty of them on their other websites.
We were able to find the following remark:
"We may use system profiles at our discretion to communicate with users to enhance our users' entertainment experience."

"The website uses support staff to monitor and moderate the chat system, leading to chat dialogues and conversations with the users."
This shows that the promise of real-life encounters which the operator gives on the landing page is untrue. Many users are not familiar with what is written in the terms and conditions. They will assume that all the good-looking profiles on SexyMeets.club are in fact real. In addition to that, the users will most likely feel the need to flirt with them, which makes it possible for these fake profiles to extend the conversation in a chat.
To send a message, a photo or a sticker in a chat means the user must pay money. Coins are the virtual currency of this website. You can always buy them in the shop. Every newly registered user is granted an initial credit, but it just takes only about 4 messages before you have to purchase additional ones. Right from the start the fictitious profiles will initiate a conversation with the user, showing interest, but trying to avoid arranging a meetup. This way they can entice him to send numerous messages that all of which must be paid for.
SexyMeets.club is operated by Svippy Limited, a company based in Maidstone, in the UK. The reviews of the company and this website in particular, correlate with our own experience: Svippy Limited is not to be trusted, the dating websites they run are rip-offs.
The conclusion from our SexyMeets.club review
We cannot finish this review by giving a recommendation. SexyMeets.club is a moderated chat, the many profiles you get to meet here are not real. The fact that you must pay to communicate with these fake profiles is essential for every rip-off of this kind. Since the fake profiles do not reveal who they truly are, the fake chat rip-off works perfectly every time.
Let us know your SexyMeets.club experience in the comments as well.
We advise against registration and therefore recommend one of our winners!
We advise against registration and therefore recommend one of our winners!