The result of our MyHotties.co.za review: Our test on MyHotties.co.za turned out to be an insufficient dating website.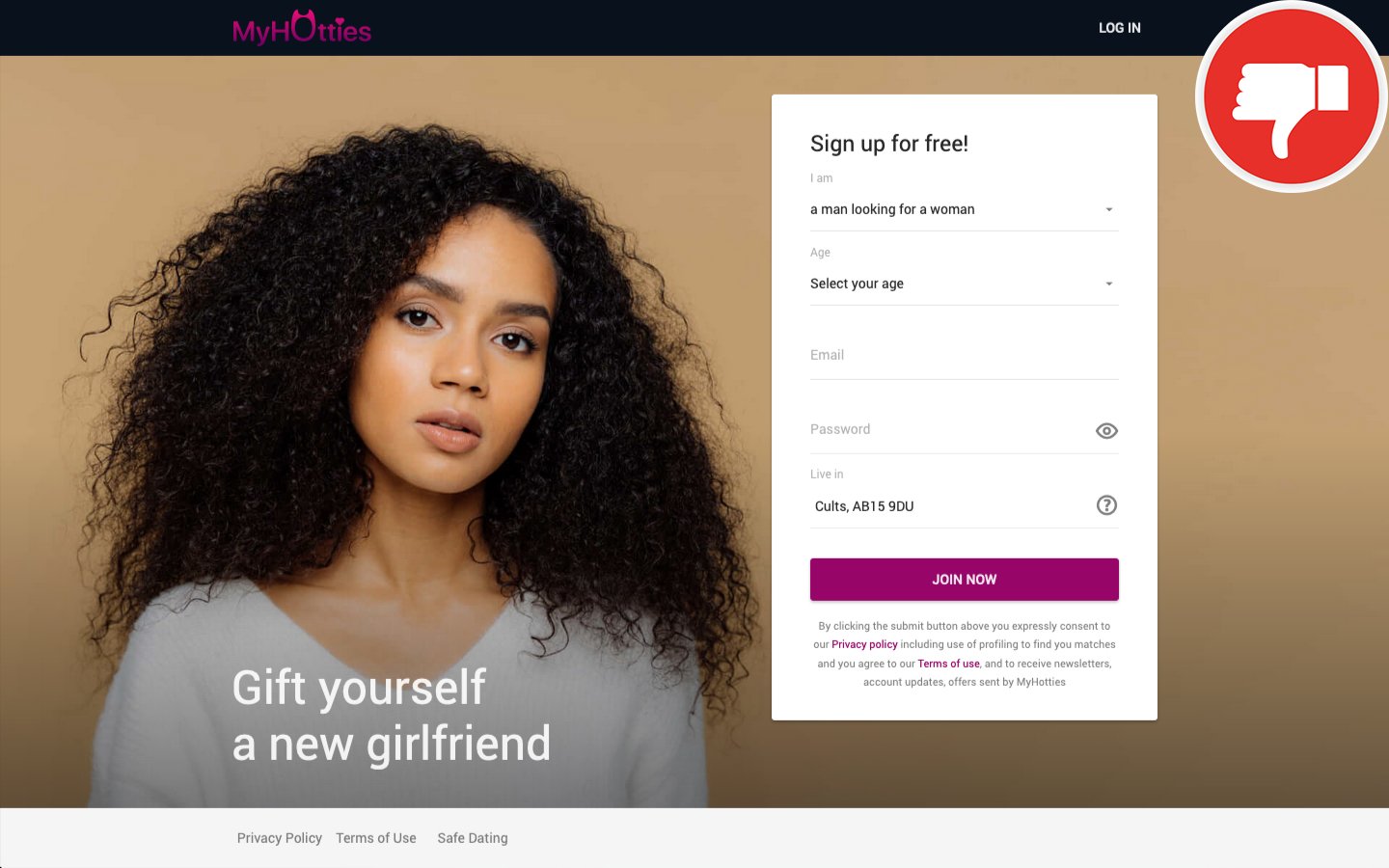 Report for MyHotties.co.za review
MyHotties.co.za is a dating service that comes with a free registration. It belongs to Timespace Holdings Ltd, a rather infamous company from Tortola, in the British Virgin Islands. Since the landing page lacks any kind of information, further research is required to really understand this dating site. MyHotties.co.za uses a feature that is not uncommon among scam dating sites. The operator creates fake profiles, and they send computer-generated messages to initiate conversations with the users. This seems rather odd, but the paid membership required to use the chat explains it quite well.
The users are supposed to fall for this trick so that they pay for an expensive membership. The trial membership appears to be the right choice. But it is a trap. This makes this site not only a fake chat scam but also a subscription rip-off.
Scroll down to read the details of our MyHotties.co.za review.
We recommend one of our winners!
We recommend one of our winners!
Details on the MyHotties.co.za review
The name of the site indicates that you get to chat with attractive members after signing up. So does the photo of a good-looking woman in the background of the landing page. Some research on the internet reveals that MyHotties.co.za is not a well-known site. This makes us question the claim that you can find your girlfriend here. After signing up it is, however, quite easy to find someone to chat with. This does not always have to be a good sign. In this case, the other members who contact you are part of a scam.
The operator is untrustworthy
Although we cannot find any reviews for MyHotties.co.za, the same cannot be said about the company behind the dating site. Timespace Holdings Ltd, has received a bit of attention for several dating sites that have been accused of not being legit. We cannot help but wonder about the location of the operator. Tortola is one of the British Virgin Islands in the Caribbean, a very odd place to start a company.
Horrendous prices for the membership
Users of this site need to purchase a membership to chat with others. All the offered memberships turn out to be expensive, except for the short trial membership of only 3 days. In fact, the trial membership is a trap which quickly turns into the most expensive membership there is. The operator tries to hide the fact that the trial membership also requires a cancellation. Otherwise, it turns into a regular paid membership that costs more than 90 USD per month.
A fake chat scam as well
A fake chat scam normally consists of fake chat operators. They hide behind fake profiles and try to make the users pay. MyHotties.co.za might be a bit different from that. The operator works with computer generated messages. These are sent to the users by fake profiles to initiate a conversation. Since chatting requires a paid membership, the users are tricked into buying one.
Evidence taken from the terms and conditions
We may from time to time offer users the ability to "Promote My Account" through Account Settings. Activating this service will mean that we will automatically broadcast custom messages created by any user, or selected from a default list of template messages, to other users. We reserve the right to select members to use the Promote My Account service.
The conclusion from our MyHotties.co.za review
Your experience on MyHotties.co.za can quickly become a nightmare. The trial membership is only made cheap to attract as many users as possible. It directly transforms into a membership that costs a fortune. To make the rip-off even more successful, the operator uses fake profiles to send generated messages. These advertise the paid membership required to chat.
Let us know your MyHotties.co.za experience in the comments as well.
We advise against registration and therefore recommend one of our winners!
We advise against registration and therefore recommend one of our winners!