The result of our MomsGetNaughty.com review: Our test on MomsGetNaughty.com turned out to be an insufficient dating website.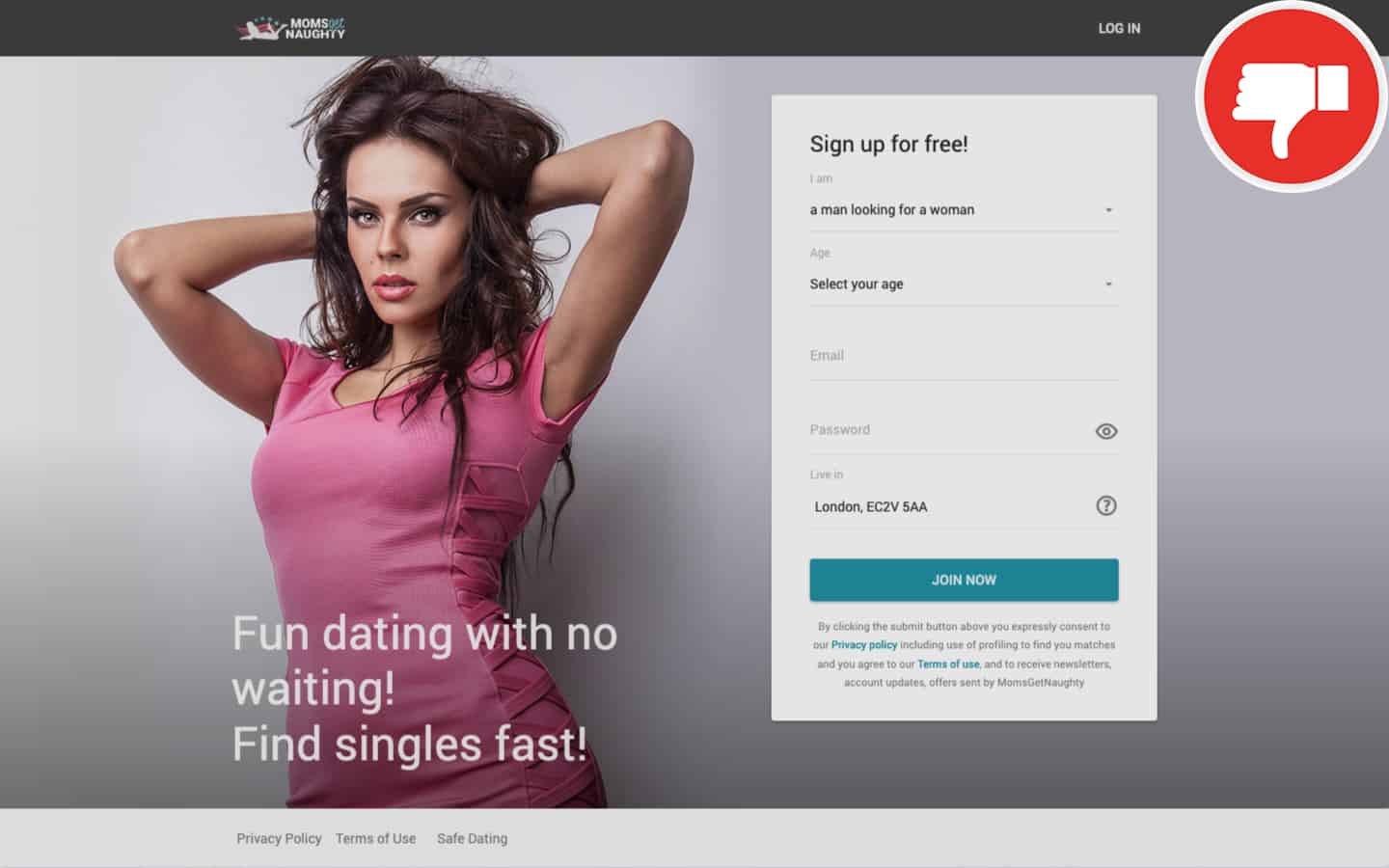 Report for MomsGetNaughty.com review
When we land on the online dating portal MomsGetNaughty.com, we have a déjà vu because we have faced the starting page with its simple design many times before. The site is part of a big network operated by a company located in Tortola, The British Virgin Islands. This time the operator hides behind the name MomsGetNaughty.
After some investigation on the internet, we found reviews that mention that the website MomsGetNaughty.com is a rip-off. With misleading and irritating information and fictitious profiles, the operator leads the users into a subscription trap. The subscriptions are costly and have an automatic renewal. We read that it is also not easy to cancel the memberships and that customers support does not really exist. The reputation of the company behind the scam is terrible, and it seems that they use this cheeky trick on all their online dating sites.
Scroll down to read the details of our MomsGetNaughty.com review.
We recommend one of our winners!
We recommend one of our winners!
Details on the MomsGetNaughty.com review
The classy but slightly boring design does not make a good impression at all, as there is literally no important information to find. The sign up is free, but this is normal on most dating site portals. Plus, the operator does not make a secret of the fact that he is managing a huge network of websites. In Canada, US, and Australia alone there are more than 45 dating portals.
The enrolment process on MomsGetNaughty.com is not very strict. The user has to supply his email address, gender, age and location. Then he needs to choose his screen name and password, and there is a possibility to upload a profile picture right away.
The new member will be redirected to the main page after registration. Here he can see tons of member profiles. To use more features, you need to verify your email address first.
The interface is easy to use, and there are different ways to interact with other users
If the new member wants to use all of the chat functions, he needs to update his basic membership. The functions are: chat, regular messaging, wink, add to favourites, like profiles and send out flirtcast. The site also offers different search functions: orientation, ethnicity, body type, hair and eye colour. There is also a mobile application available for MomsGetNaughty.com.
All the good impressions cannot hide the fact that the dating portal is just a big rip-off. After a short time, we have received more than five messages from automated bots. Using this software is a common trick to lure people into upgrading to an expensive paid monthly subscription. Knowing this, it is not a big surprise that on MosmGetNaught.com, we find tons of faked profiles as well.
This is also mentioned in the terms and conditions
"We create user profiles for use by our customer support representatives for the support, marketing, improvement of the Service, and in order for our Registered Users to experience the type of communications that they can expect as paying Members."

"The user profiles we create are not intended to resemble or mimic any actual persons."
Contact details
P.O. Box 146
Trident Chambers
Road Town
Tortola
British Virgin Islands
How to cancel
You may cancel your subscription and membership by visiting the "My Account" section of the site that you are a member of, and following the relevant link to remove your account.
Alternatively, you may cancel your registration by giving notice to:
[email protected]
The conclusion from our MomsGetNaughty.com review
The online dating website MomsGetNaughty.com is a big scam. The users are lured into subscription upgrades by using automated bots and faked profiles. The members' pool is full of fantasy profiles, and the members will not find real dates on this portal. On top of that, the subscriptions have a monthly renewal.
Let us know your MomsGetNaughty.com experience in the comments as well.
We advise against registration and therefore recommend one of our winners!
We advise against registration and therefore recommend one of our winners!