The result of our Lust-Station.com review: Our test on Lust-Station.com turned out to be an insufficient dating website.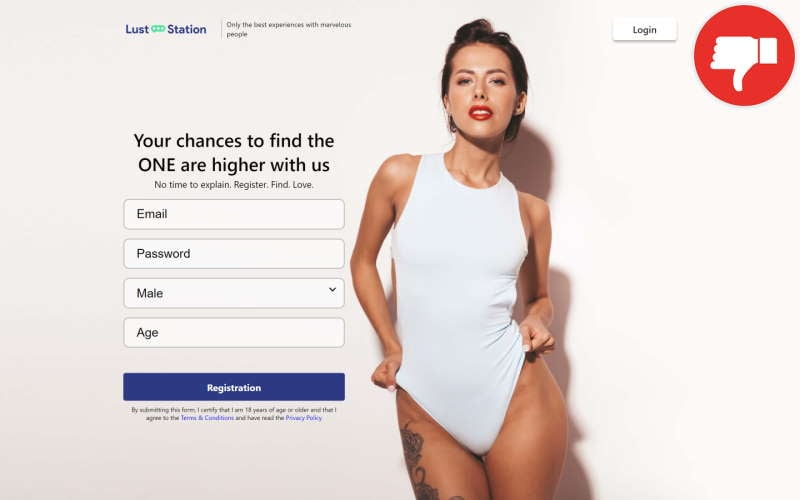 Report for Lust-Station.com review
Lust-Station.com defines itself as a brand-new dating platform, designed for those that are looking for true love and are missing sincere conversations. Allegedly, they can offer the best dating experience, with thousands of local profiles of people genuinely interested in finding their special one. Although it might look like a great choice, Lust-Station.com is just a scam. Our review will prove to you that they use fantasy profiles controlled by fake chat operators.
Their goal is to lure you into buying a premium membership that, according to many online reports, is a subscription rip-off. Several past users of other websites in the same network complain that these subscriptions are impossible to cancel. Digital International Inc is the company from the Marshall Islands that runs this and many other untrustworthy dating portals.
Scroll down to read the details of our Lust-Station.com review.
We recommend one of our winners!
We recommend one of our winners!
Details on the Lust-Station.com review
The landing page of Lust-Station.com looks exactly like all the other pages from the same operator. They do not even make the effort to change the background picture, or some of the written content. At the bottom of the page, there are a couple of reviews from active members, which enthusiastically describe their experience on this platform. Curiously, even these reports never change. It appears obvious that all the initial pages of these websites point to the same member's area.
We know that when a company launches a lot of identical websites, they do that just to maximize their profits, before their scams are exposed. Digital International Inc already has a horrible reputation on the internet. But probably, this is still not enough to stop this operator from the Marshall Islands from pursuing their economic interests in such a questionable manner.
Staff profiles
Lust-Station.com admits to using staff profiles to send messages to their members. They claim to do that to guarantee that the system is working properly. But we know that the real purpose is different. "Staff profiles" is in fact just a nicer name to call the fake chat operators who are running these fictional accounts.
These are just professional moderators who work for the company, with the only goal of tricking members into buying a paid subscription. Since these profiles are not identified separately in the system, there is no way to distinguish them from genuine ones, assuming that there are any.
The following note is from the Terms and Conditions
We may, from time to time, create profiles which are created, maintained, and managed by our employees ("Staff Profiles").
Dangerous subscriptions
If this is not enough, many former users suggest that the subscriptions sold by this unreliable company are a trap. Right after the registration, a new member is directed to the payment page. There, he is given the opportunity to purchase a 1-day trial plan, at a heavily discounted price. But if it is not cancelled in time, this membership will extend automatically for a month, at a much higher price.
According to the Terms and Conditions, the cancellation request must be sent with 24-hours' notice, which is obviously impossible since this is the exact duration of the package. Subsequently, this is a clear example of a subscription rip-off.
The conclusion from our Lust-Station.com review
We strongly advise all our readers against wasting any money and time on Lust-Station.com. As always happens on every dating site run by this operator, the profiles in the member's area are fake. They are controlled by professional moderators whose only interest is to increase the company's profit. Inevitably, it is not possible to meet a fictional character. Moreover, the trial memberships are a trap because they are impossible to cancel.
Let us know your Lust-Station.com experience in the comments as well.
We advise against registration and therefore recommend one of our winners!
We advise against registration and therefore recommend one of our winners!