The result of our IllicitEncounters.com review: Our test on IllicitEncounters.com turned out to be an insufficient dating website.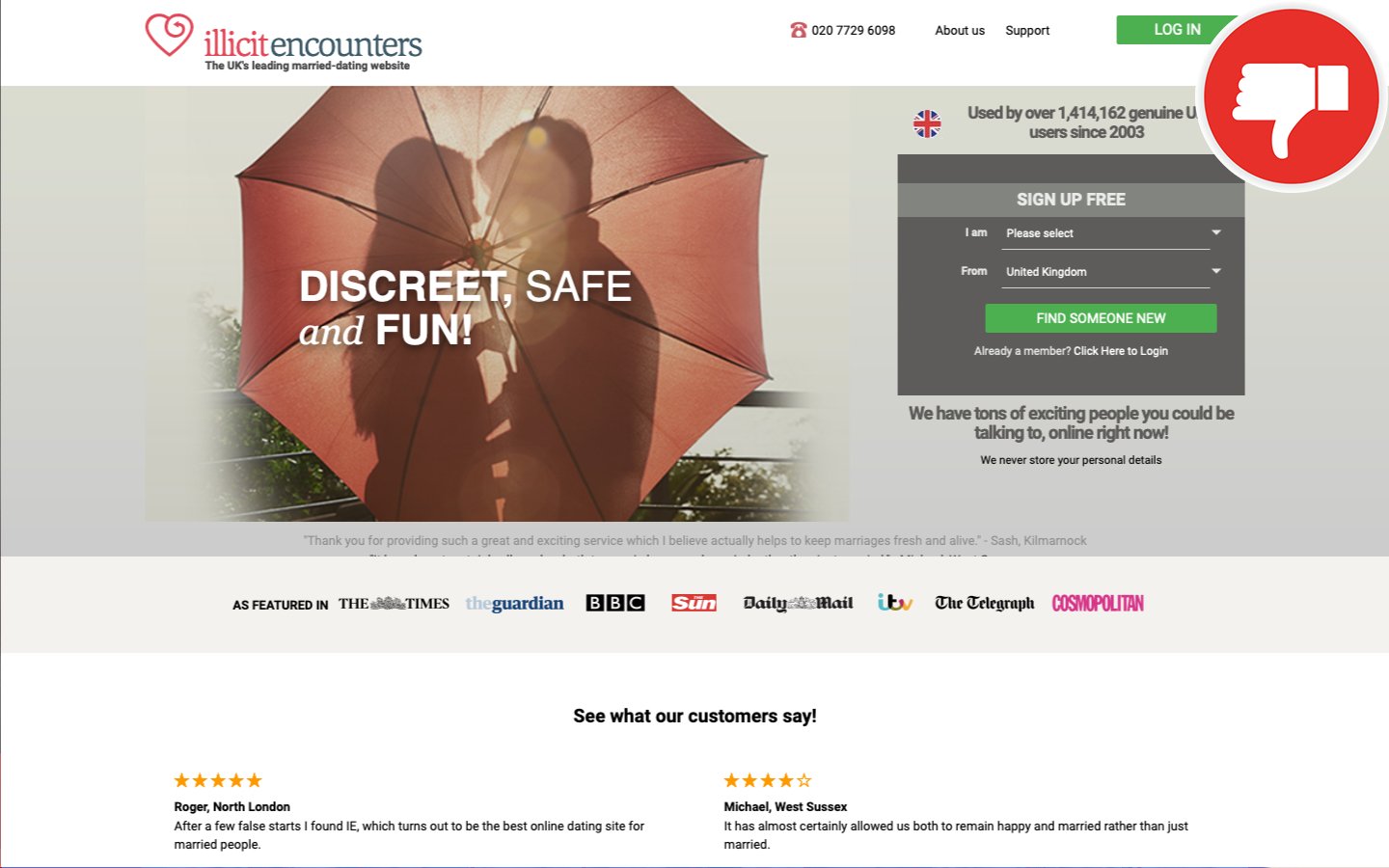 Report for IllicitEncounters.com review
IllicitEncounters.com is an online dating platform for adultery and has been around since the year 2003. The free registration is a plus, but you soon find out that non-paying members cannot do much around here. In fact, the opposite is the case. A Gold Membership is required to communicate with the other members of the platform. This membership turns out to be very costly.
For our research we also tried to collect the experiences which other customers have had on this dating platform. Many people suggest a fake chat scam using professional animators. The operator rejects these allegations. What also does not seem to be clear to customers is the automatic renewal clause. Against their will, many customers paid for an additional subscription term. IllicitEncounters.com is a subscription rip-off. The company that operates this platform is Online Tech Support Ltd., based in London.
Scroll down to read the details of our IllicitEncounters.com review.
We recommend one of our winners!
We recommend one of our winners!
Details on the IllicitEncounters.com review
Among all the different adjectives we would pick to describe the landing page of IllicitEncounters.com, 'modern', clearly is not one of them. Nonetheless, the creator of this page knows how to make the free registration on this dating platform even more tempting. Apparently, IllicitEncounters.com has been featured in various well-known newspapers. Furthermore, the platform describes itself as "The UK's leading married-dating website" which has been used by more than a million users since 2003. The many reviews IllicitEncounters.com has received do indeed show that the platform is quite famous, but its reputation, however, is rather poor.
After signing up on the platform, the users receive gifts and messages from other profiles, even though no personal profile picture has been uploaded yet. When reading through the user reviews we get the impression that many people have had this experience. They report fake operators that try to scam, admit to being fake, and cannot be met in real life. Although many female profiles still seem to be real, the dating platform has apparently changed for the worse when it comes to the credibility of its profiles.
Another issue is the pricing of IllicitEncounters.com.
While women do not have to pay anything to become a Gold Member, men must pay a high price for the Gold Membership. For 4 weeks of Gold Membership male users pay 139.99 pounds. This membership is required for men to send messages in a chat. For an additional 30 pounds a gold member can turn his membership into a Gold Plus Membership. Even if there was no scam whatsoever, the dating platform would still clearly be asking for too much money.
At the beginning, the dating platform makes a special offer to the new customers. They can get 6 weeks of Gold Plus Membership for the price of 4 weeks of Gold Membership and save a lot of money. Just like any subscription on this platform, the automatic renewal clause comes into play when the costumer does not cancel in advance. The operator points out that this fact is made clear. The many users that claim otherwise and show that this detail is not as transparent as it should be.
IllicitEncounters.com is operated by Online Tech Support Ltd. The company based in London, in the UK, and is mainly known for running this platform.
The conclusion from our IllicitEncounters.com review
You can in fact get to know real people on IllicitEncounters.com, but to do so the users must pay a large amount of money. In addition to that, many users complain how they could not arrange a single date. More than just a few profiles on this platform seem to be fake, making the platform a rip-off. Although the operator states that there is sufficient information given about the automatic renewal, the various negative reviews prove otherwise.
Let us know your IllicitEncounters.com experience in the comments as well.
We advise against registration and therefore recommend one of our winners!
We advise against registration and therefore recommend one of our winners!