The result of our iHookup.com review: Our test on iHookup.com turned out to be an insufficient dating website.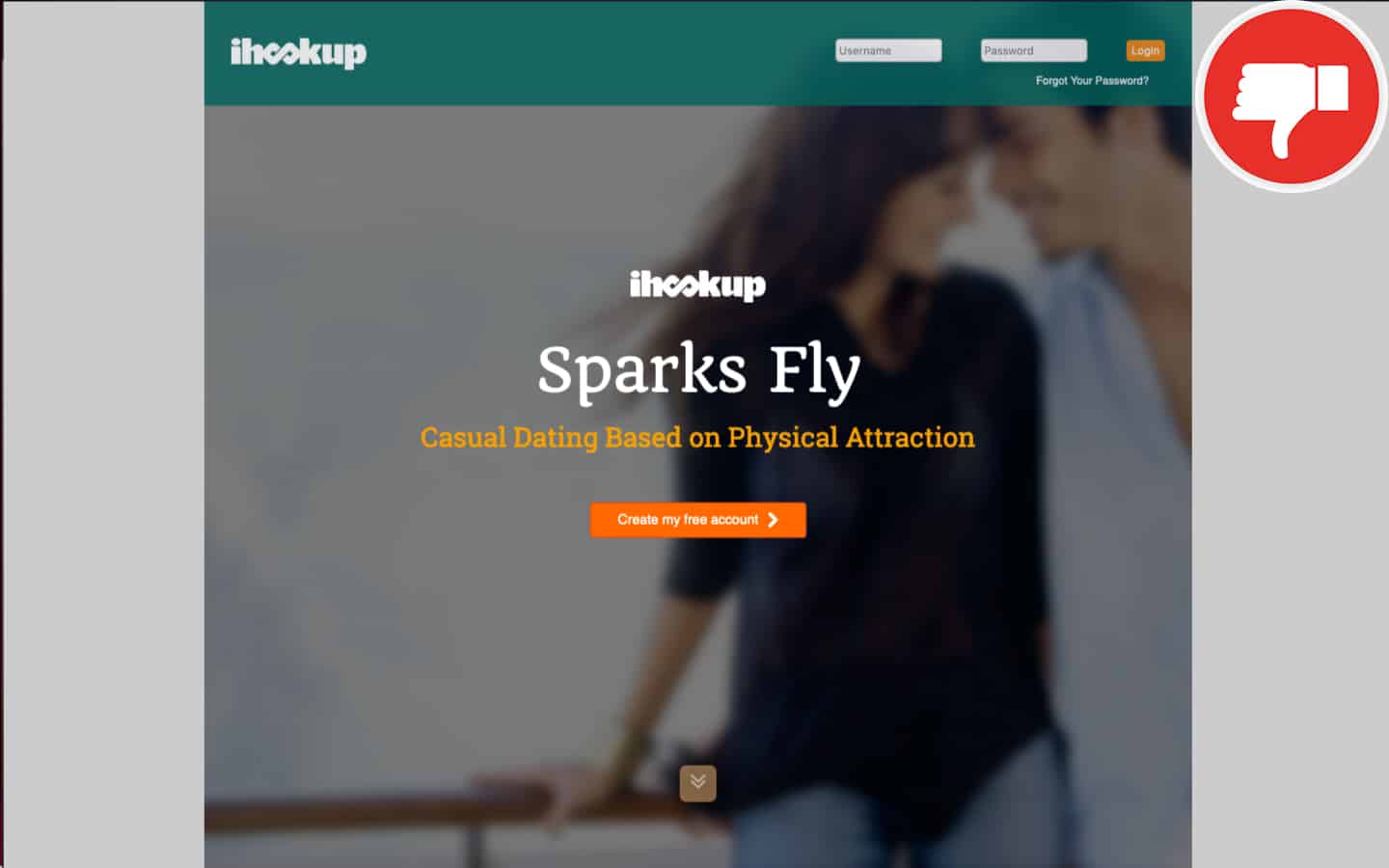 Report for iHookup.com review
iHookup.com is a social casual dating platform based on physical attraction and presents itself with an unusual design and modern fonts. The first impression makes the visitor curious, and he wants to find out more about the website with an intriguing name.
The online dating website is managed by the company Media Crush Digital located in Nicosia, Cyprus. It is nothing more than a faked chat scam. The portal is using fictitious profiles which are operated by employed moderators to animate users to endless and costly conversations. The bad reputation of the portal and its operator precedes them. We read dozens of horrible testimonies from angry, disappointed former members of iHookup.com unanimously complaining about the cheeky tricks on the website, and the members' pool full of fictitious profiles.
Scroll down to read the details of our iHookup.com review.
We recommend one of our winners!
We recommend one of our winners!
Details on the iHookup.com review
The visitor is greeted with a fresh, modern design and a blurred picture of a couple, plus the slogan "Casual dating based on physical attraction", when he is landing on the online dating website iHookup.com. The user gets the information that creating an account is free and that the dating portal is available as a mobile application as well.
We start our registration by clicking the orange button and give our necessary information like age, location, date of birth and our sexual orientation. Afterwards, we create our username and password, enter our email and confirm the new account. We are redirected to the next page and asked to choose a subscription package. That seems fishy to us; fortunately, we can bypass this shady trick and finally end up in the member area.
The interface has a sleek design, and at the top, we can find "Messages", "Hookups", "Search", "Faves", and "LiveChat". The rest of the page consists of member previews and advertisements.
Typical of a rip-off with faked profiles is the scheme to bombard the new users with plenty of messages and animate him to read and reply. Which of course, is not possible without upgrading the basic account.
The moderated chat and the members' pool full of fictitious profiles is mentioned in the terms and conditions of IHookUp.com.
"This site uses fantasy profiles called 'Sweethaarts' which do not correspond to actual members.You understand, acknowledge, and agree that some of the profiles used on this site may be fictitious and operated by site administrators and or its contractors. Nothing contained in a Sweethaart Profile is intended to describe or resemble any real person, and is included on the website for your personal enjoyment or entertainment. If you respond to, or initiate any communications or interactions with Sweethaarts it will not result in a physical meeting between the Sweethaart and You."
During a short investigation on the internet and we encounter plenty of lousy reviews and testimonies. The people are mostly complaining about the moderated chat and faked profiles. Some former members warn that the website is not safe, there are multiple ads, no member verification process, and no reply from customer support.
Contact details
Media Crush Digital
14 Griva, Flat/Office 103
Ag. Antonios, 1055
Nicosia
Cyprus
The conclusion from our iHookup.com review
The online sex dating portal iHookup.com is a scam with a moderated chat and a members' pool full of faked profiles. On top of that, they try to lure visitors with ads, into expensive subscriptions to adult entertainment sites.  Real physical arrangements are not possible at all. We recommend you save your money and stay away from this corrupt website.
Let us know your iHookup.com experience in the comments as well.
We advise against registration and therefore recommend one of our winners!
We advise against registration and therefore recommend one of our winners!