The result of our Hily.com review: Our test on Hily.com turned out to be an insufficient dating website.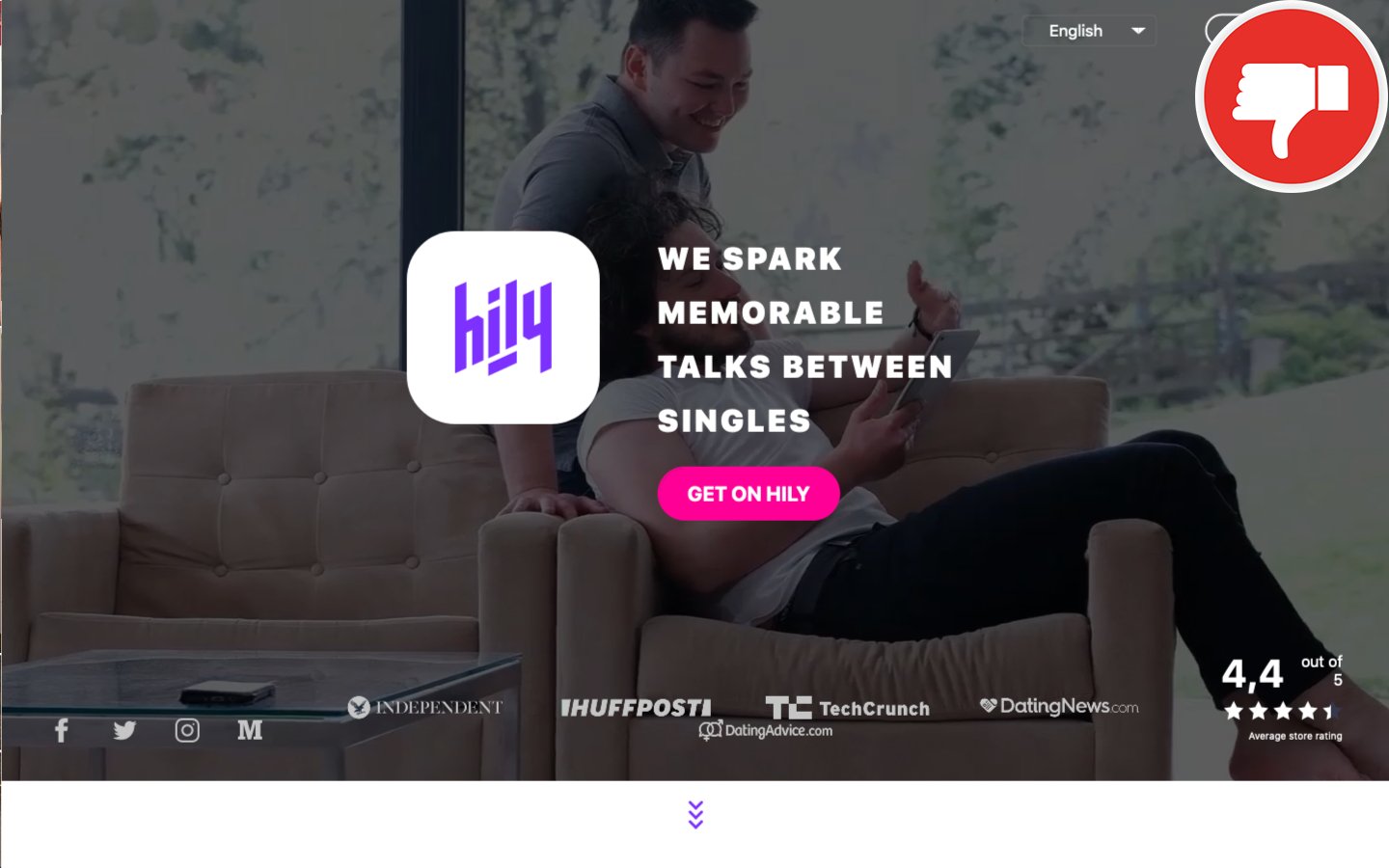 Report for Hily.com review
The online dating website Hily.com presents itself with a very modern starting page and promises to spark memorable talks between singles. They advertise with positive testimonies from influencers and good reviews on several online platforms. But we have our doubts because we found plenty of awful reviews and testimonies about the portal Hily.com.
The operator behind the darting website is Hily Corp., based in Las Vegas, in the US. The website is very vague about the dating app, what it does, and how it works. We guess the company prefers that you install the app and try it for yourself. But after reading all the bad reviews, it might be not such a good idea. Former members accuse the dating website hily.com of ripping off people with subscription scams, faked profiles, and bots
Scroll down to read the details of our Hily.com review.
We recommend one of our winners!
We recommend one of our winners!
Details on the Hily.com review
We have already warned by many negative testimonies and reviews that the dating portal and app hily.com tries to scam their customers. They use misleading information, subscription tricks and faked profiles. Anyhow, we want to get our own impression of how the platform works.
If you want to get on Hily.com, you will be directly forwarded to an app store, because the dating platform is only available as an application. We downloaded the app and started the registration. The process is easy, but we are very annoyed about the advertising of their paid premium service Hily Elixir, which makes it a bit tricky to navigate to the free options.
Signing up
Enter a name
Enter your valid email
Create your password
Select your gender
DOB
ZIP Code
Profile photo
The application is full of various services and options, and we will just give you an overview of the key features:
Unlimited "likes."
Registration is easy and free
Easy to navigate
Right after we have created our account, the application offers us a 7-day free trial. We strongly recommend that you do not sign up at all, because after the one-week free trial it will turn into a costly weekly subscription. A nice try from the operator Hily Corp. from the US!
There are hundreds of angry testimonies on the internet complaining about how tricky it is to cancel this membership.
Two of the testimonies:
"Little did I know that was only the beginning. For the next 6 months I was charged $15 every 7 days for their premium service when I did not even have an account with them anymore. Essentially I was charged for close to $400 now, and I had the app for 3 days. Since I failed to recognize it sooner and follow their shady practice of cancelling my subscription in the App Store, I was billed 4 times a month for an app/account that did not exist anymore."

"What absolute [email protected] these developers are, literally robbing people blind for a blatantly obvious fake app with bots that never reply. Matches are fake and can be made by restarting the app then swiping the first girl that comes up. Surely it is illegal to use random girls' images without their knowledge, someone stop this scam please before any more people lose money."
We do not have any real evidence for a scam. Still, the misleading information and the very tricky two-step cancellation procedure smells more than fishy.
Contact details
Hily Corp., postal address:
3172 North Rainbow Boulevard #1132,
Las Vegas,
NV 89108, US
How to cancel
It is essential to unsubscribe on the App Store or Google Play as well, otherwise, the company will continue charging your credit card.
The conclusion from our Hily.com review
The online dating application Hily.com has a great first impression with the modern look and the stylish starting page. But already during the enrolment process, it becomes fishy when the application animates the customer with annoying ads to try a 7-day free trial. After the free week, it will automatically turn into a regular subscription which is very hard to terminate. Customer service is never available, they are always 'busy'. We think you are better off not signing up here.
Let us know your Hily.com experience in the comments as well.
We advise against registration and therefore recommend one of our winners!
We advise against registration and therefore recommend one of our winners!