The result of our GrannyLover.co.uk review: Our test on GrannyLover.co.uk turned out to be an insufficient dating website.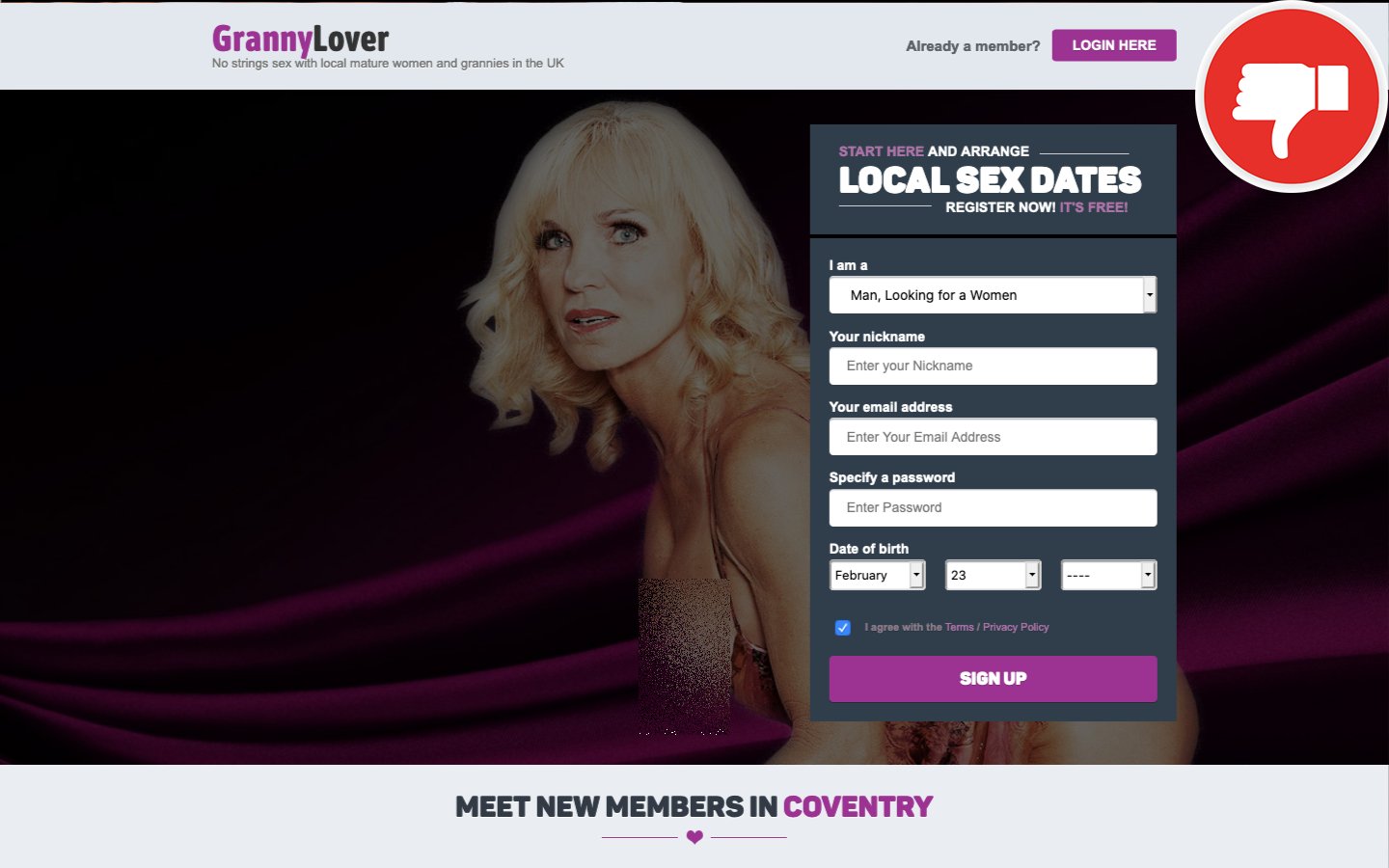 Report for GrannyLover.co.uk review
GrannyLover.co.uk is a dating platform where you can seemingly find mature women in the UK. Signing up is not only easy but also free of charge. We want to see what GrannyLover.co.uk is really like. After a while, we come to the realization that this platform is just another fake chat scam. It works just like the other countless fake chat scams we have exposed before.
The operator of GrannyLover.co.uk remains unknown, which is not a good sign, to begin with. As a user you must pay, if you want to send chat messages to the other members of this dating platform. The operator is trying to hide the fact that the other profiles which you can find here are not real. GrannyLover.co.uk is home to countless fake profiles which are either bots or being controlled by so-called fake chat operators. Users are supposed to fall for this trick and pay a lot of money for conversations with members who do not really exist.
Scroll down to read the details of our GrannyLover.co.uk review.
We recommend one of our winners!
We recommend one of our winners!
Details on the GrannyLover.co.uk review
GrannyLover.co.uk appears to be a dream come true for people that want to date mature women in the UK. The landing page does not tell us a lot, but we get to know that signing up is completely free. A few of the members are already shown on the landing page. This is typical of many dating platforms that want to make signing up to appear as attractive as possible. We doubt that the shown members are real. GrannyLover.co.uk turns out to be a fake chat scam and members cannot expect any good experience here.
It does not take long to sign up. For some reason, every newly registered member already receives several messages. Apparently, mature women from your area are interested in a flirt. This seems quite odd, considering that you have not even uploaded a profile picture yet.
In the terms and conditions, we find something worth mentioning
6. In order to enhance your amusement experience, to stimulate you and others to use our Services more extensively, and to generally sprinkle some sparkle and excitement into the Services of GRANNYLOVER.CO.UK, we may post fictitious profiles, generate or respond to communications by means of automated programs or scripts that simulate or attempt to simulate your intercommunication with another real human being (though none really exists and any dialog is generated by programming), and we may employ or contract for the paid services of real persons who may interact with you as part of their compensated employment.
The operator admits that fictitious profiles are part of GrannyLover.co.uk. They could be so-called fake chat operators. But here it seems that the fictitious profiles are just bots that send generated messages to imitate conversations. They are programmed to get the users' attention by sending seductive messages. This is not just about the entertainment of the users, but mainly about the financial interests of the operator.
Just a rip-off
The function of the fictitious profiles is described by former users who post their negative comments and reviews online. As a user you must buy credits that can then be used to pay for sending messages in the chats. The fictitious profiles send many messages to initiate a flirt, just because the operator benefits from it. The profile pictures on the site are used as a cover and can indeed be found on other scam platforms as well.
The name of the operator is not mentioned. It seems that the company responsible wants to remain unknown. Since GrannyLover.co.uk is a rip-off, this does not really surprise us.
The conclusion from our GrannyLover.co.uk review
The statement given on the landing page cannot be trusted. On GrannyLover.co.uk users are talking to fictitious profiles, not real mature women. By sending generated messages, these fictitious profiles can get in touch with the real users and entice them to send many messages. All of this is part of a clever scam. You cannot chat for free.
Let us know your GrannyLover.co.uk experience in the comments as well.
We advise against registration and therefore recommend one of our winners!
We advise against registration and therefore recommend one of our winners!