The result of our FlirtHookup.com review: Our test on FlirtHookup.com turned out to be an insufficient dating website.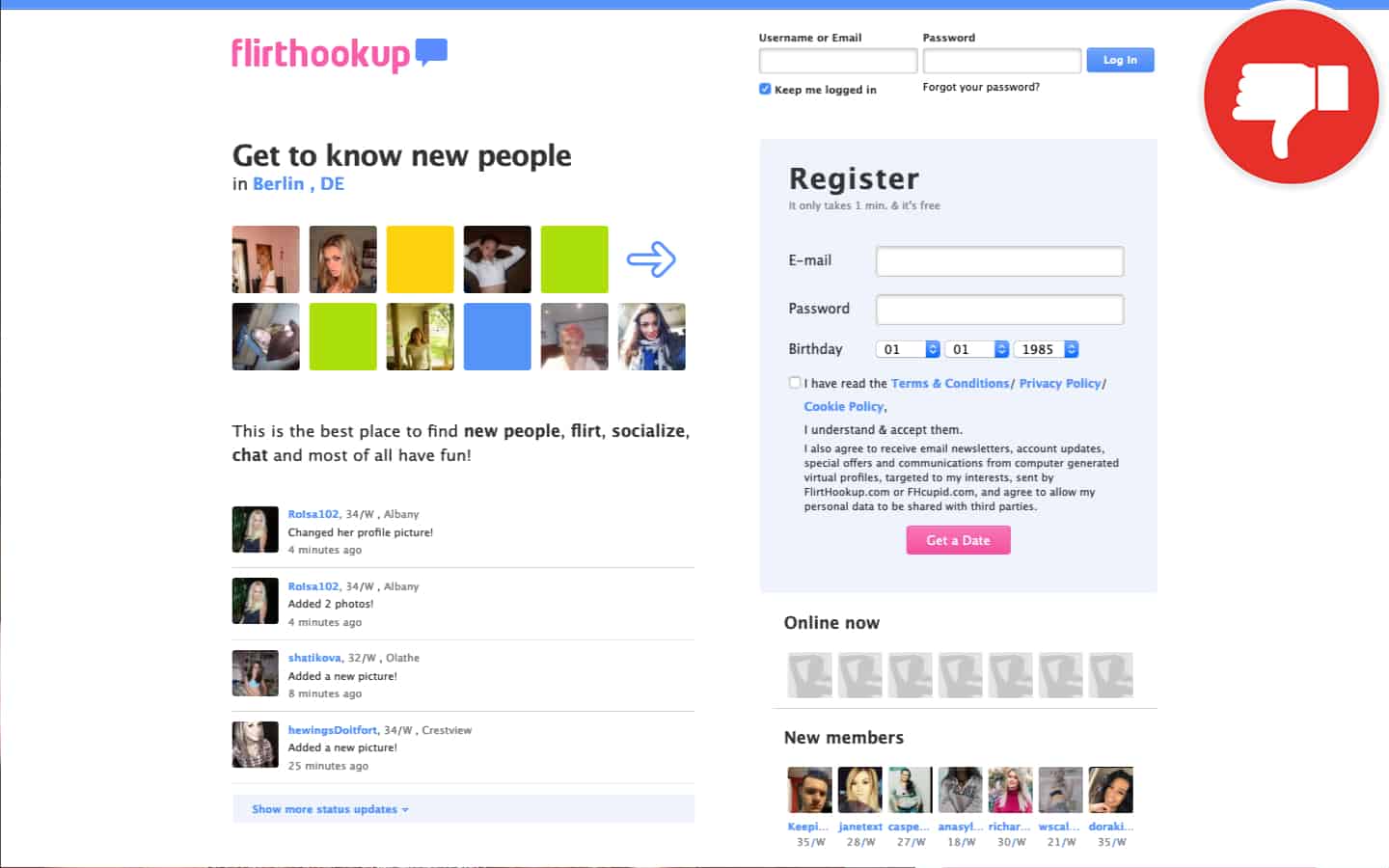 Report for FlirtHookup.com review
The landing page of the online dating portal FlirtHookup.com presents itself with a retro design, small previews and is not very attractive at all.
After a short investigation, we find out that the company behind this cheeky dating website is Flaming Head Limited, located in Nicosia, Cyprus. FlirtHookup.com is a faked chat scam. Paid employees of the operator are hiding behind fantasy profiles and lure the members into expensive but senseless conversations. We read lots of reports and testimonies on the internet about this online portal and about the company managing this rip-off. The site FlirtHookup.com is only one of many websites owned by Flaming Head Limited, and they all have moderated chats and animators.
Scroll down to read the details of our FlirtHookup.com review.
We recommend one of our winners!
We recommend one of our winners!
Details on the FlirtHookup.com review
The poor design does not really stimulate the visitors to register or even have a more in-depth look into the hookup online dating portal FlirtHookup.com. The preview pictures of existing members are unclear and very tiny. The website claims that the registration is free and that it only takes one minute.
We give it a try and provide an email address, our birthday and create a password. We also need to agree to their terms & conditions, privacy policy and cookie policy. Here we find the first proof that the portal is a moderated chat. The operator admits to the use of computer-generated virtual profiles to entertain the members.
"I also agree to receive email newsletters, account updates, special offers and communications from computer generated virtual profiles. targeted to my interests."
We also learn that our private data will not be safe on FlirtHookup.com, because we have to agree that this can be shared with third parties.
"FlirtHookup.com or FHcupid.com, and agree to allow my personal data to be shared with third parties."
We proceed with the free enrollment and are asked to provide some more details. We have to choose our username, preferences and provide our location before we can verify again. A small summary is requested, and we can upload some pictures. Finally, we arrive at the main members area.
The same simple and boring design as with the starting page. Very disappointing, with the small preview pictures and the poor interface. Nothing special here, the usual search functions, profile setting features and a link to a live cam.
Minutes after they have signed up, the member will receive charming messages and texts from various women. They all ask for a picture or a chat in private. Here the rip-off starts. The messages are either from computer generated bots or from moderators hiding behind fictitious profiles who try to animate the new members into a membership upgrade which is essential to use the chat. With the upgrade, you will get a "HOOKUP GUARANTEE" and "UNLIMITED ACCESS TO THOUSANDS OF HOT VIDEOS".
What big scam do we have here?
It is not only that the operator, Flaming Head Limited, located in Nicosia, Cyprus is managing a moderated chat and virtual profiles, but he also lures the members into expensive subscriptions with recurring billing until termination. We read about this on the internet as well, and find more evidence in the terms and conditions:
"In order to enhance your amusement experience, to stimulate you and others to use our Services more extensively, and to generally sprinkle some sparkle and excitement into the Services of FLIRTHOOKUP.COM, we may post fictitious profiles, generate or respond to communications by means of automated programs or scripts that simulate or attempt to simulate your intercommunication."
Contact details
Flaming Head Limited / FlirtHookup Inc.
9A Theodorou Kolokotroni
Geri
2201 Nicosia
Cyprus
How to cancel
"You may cancel your Membership subscription at any time prior to the end of any recurring billing date; cancellation will be effective to preclude rebilling on the next billing date as long as notice is given at least 24 hours prior to the end of the date set for recurring billing and your use of our Services will end at midnight on the date scheduled for recurring billing. If we terminate your Membership because you breached this Agreement, your payment for the balance of your present Membership period is automatically and immediately forfeited as liquidated damages for your breach, the parties agreeing that the economic measure of your potential breaches of this."
The conclusion from our FlirtHookup.com review
Another excellent example of a cheeky online dating portal luring the customers into senseless communications by using moderators and computer-generated virtual profiles. The website FlirtHookup.com is nothing else than a rip-off. The members are not real, and the chance for an actual date is zero. Do not waste your time and money, and stay away.
Let us know your FlirtHookup.com experience in the comments as well.
We advise against registration and therefore recommend one of our winners!
We advise against registration and therefore recommend one of our winners!