The result of our CloudFlirt.com review: Our test on CloudFlirt.com turned out to be an insufficient dating website.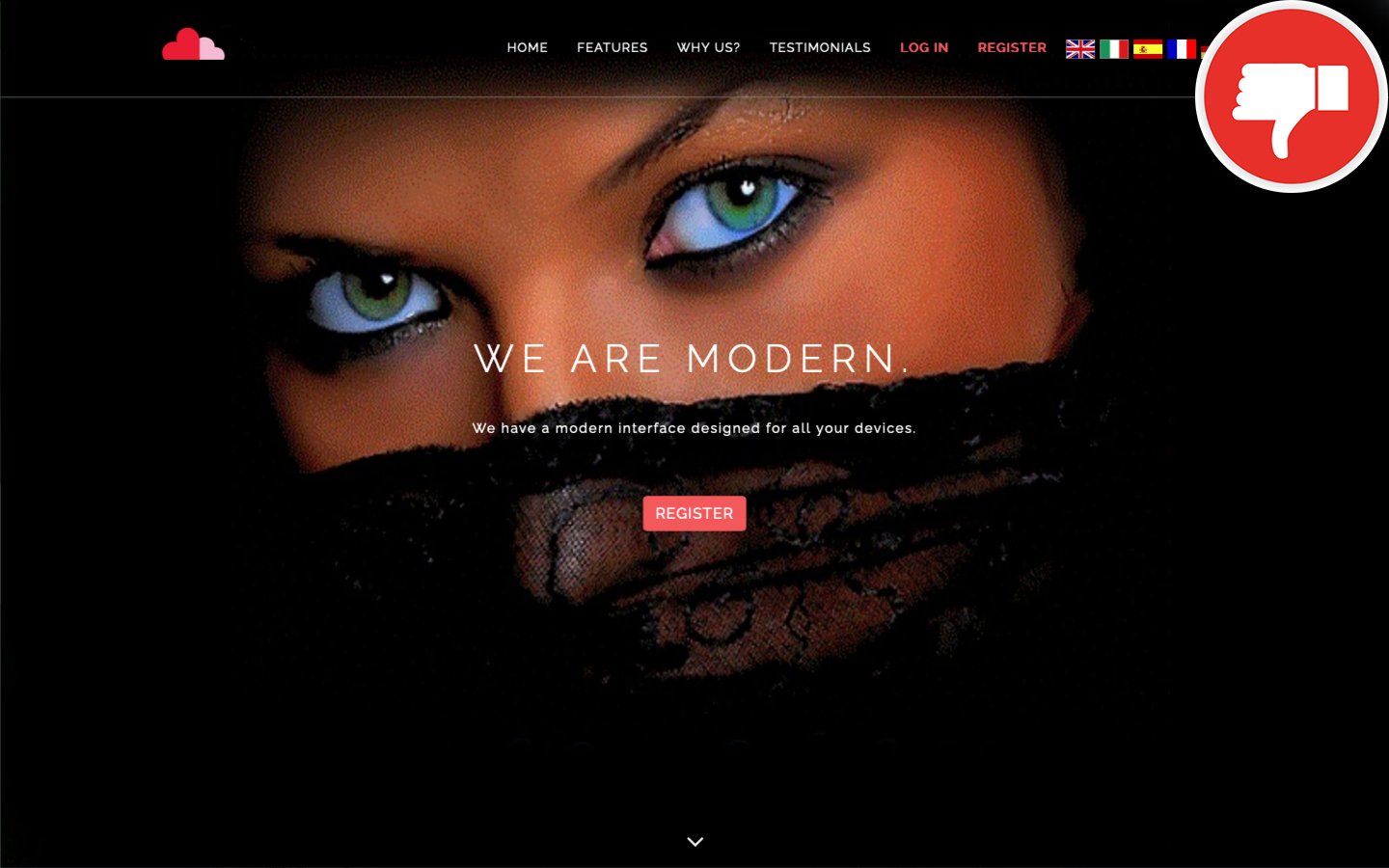 Report for CloudFlirt.com review
The dating website CloudFlirt.com advertises with a free registration and hundreds of features that can be used. However, features you can make use of right after signing up are extremely limited. Only premium members get the full access. Although this seems rather fair, one should be aware of a simple fact. Only paying members of the website can send messages in the chat.
CloudFlirt.com is operated by SC.Melystar.SRL. This company is based in Prisăcani. The profiles on this website are fake. They are put into play as a tool to make money. Fake operators take control of these fake profiles. They use them as a cover to seduce the user in the chat, without him noticing anything. To use the chat, you must pay for a premium subscription which the operator tries to sell on the site. CloudFlirt.com is nothing but a rip-off.
Scroll down to read the details of our CloudFlirt.com review.
We recommend one of our winners!
We recommend one of our winners!
Details on the CloudFlirt.com review
You can already encounter the fake profiles on the landing page of CloudFlirt.com. The dating website displays pictures of good-looking women. This makes a visitor to the landing page believe that he will get the chance to talk to attractive female members after signing up. To make the fake profiles appear real, the operator has published a few testimonials by female users. They share their positive experiences with CloudFlirt.com. Even though we selected English as our language, the testimonials are shown only in Italian. While using CloudFlirt.com you will often stumble upon Italian words. However, the operator is based in another European country.
The company that operates CloudFlirt.com is called SC.Melystar.SRL. This operator is situated in the Romanian city of Prisăcani. This dating website is just like the other scam websites operated by this company.  All are rip-offs which aim to attract users from various countries, especially Italy.
This procedure is always the same. The registration is the first step. The operator has created fake profiles that contain false information. They do not display the people who are operating them. The people behind these profiles are fake operators, and they have no interest in revealing who they actually are. It is their goal to get the user's attention, and they try to seduce him by flirting. After reading the negative reviews about CloudFlirt.com, we found out that this kind of ploy really pays off. Even if we do not take the personal experience of other users into account, we still have enough evidence to back our claims.
In the terms and conditions of the website we find a reference to the fake profiles:
"By using this service you agree that some Member profiles, messages and communication may not be genuine and that the service was only intended for entertainment."
The fake operators only seduce the user because he must pay for a premium subscription, to keep the conversation going. If the user wants to enable even more premium features, such as the video chat option, he can upgrade to a more expensive Platinum or VIP Membership. Luckily, these subscriptions do not renew automatically after expiring. CloudFlirt.com is not a subscription scam.
The conclusion from our CloudFlirt.com review
After doing sufficient research we cannot complete our conclusion, by recommending CloudFlirt.com. The user has no chance of arranging a real-life meetup with the members here. Even though they are supposedly keen to have a charming conversation with him. A premium subscription is necessary to hold conversations with other members on this website. Fake operators manipulate fake profiles to make sure that the user wants to chat with them.
Let us know your CloudFlirt.com experience in the comments as well.
We advise against registration and therefore recommend one of our winners!
We advise against registration and therefore recommend one of our winners!