Adult Friend Finder: Test winner "Casual Dating"
The online dating website AdultFriendFinder.com is truly one of a kind. It's more than just a dating portal. This is the largest swinger community worldwide which makes it the perfect place to find a casual date or to have an erotic live cam chat. They have great service and lots of things to offer. On AdultFriendFinder.com you can find information on online dating and casual sex. You can explore the magazine or join the user's blog.
Summary
The largest community for casual dates and swingers
Around 80 Million registered members all over the world
Over 3 Million members in the UK
One of the best and most successful platforms for sex dates
Great service and lots to discover
Many different ways to get in touch with others
Singles, TV, TS, TG couples and married people are there to find an adventure
Live video chats with other members
Extensive platform with a member's blog, a magazine and much more
Costs originate via a subscription for a premium-membership
Points which you can buy or earn and Tokens that you have to buy
TEST ADULT FRIEND FINDER FOR FREE NOW!
We all have different needs and desires. Though sometimes it's difficult to find the right person to share your fantasies with. AdultFriendFinder.com is different. No matter your sexual preference or how you identify with your own gender, everyone's welcome to join in on the fun. On this portal you can arrange casual dates with other members. And it doesn't have to be with just one person. You can look for couples and groups too, or they can get in touch with you.
General information
AdultFriendFinder.com was originally founded in 1996 in California USA by Andrew Conru. It didn't take long for the online community to grow and the portal to go international. This site now has three international offices for their affiliated entities in Singapore, Australia and the UK. In 2007, Penthouse Media Group took over the FriendFinder's parent company. Later the name was changed to FriendFinder Networks Inc. According to the terms and conditions, Various, Inc. is mentioned as the operator of the website. If you're in Europe then the agreement will be between yourself and Ventnor Enterprise Limited, located in Essex, UK.
Besides the long history of this platform, it's the number of members that makes it special. It has over 80 million users registered all over the world. It is probably the best and most successful sex dating platform on the internet. In the UK, it has more than three million registered members, which speaks to the great service provided by this portal. It's also a guarantee that you'll find at least a few matches who are searching for the same as you. With over 3 million users in the UK alone, there's a good chance you can find someone nearby.
The Registration
Done in five easy steps
Takes just a few minutes to complete
You can register as a couple, TV, TS or TG
Search for singles, couples, groups, TV, TS and TG
Registering on AdultFriendFinder.com is simple and takes just a few minutes. You don't have to answer lots of questions or provide detailed preferences initially. The operator of this platform gives users the option to get on ASAP.
TEST ADULT FRIEND FINDER FOR FREE NOW!
Another great thing about this website is that you can register as a group or couple, not just a single man or woman. If you register as a couple, you can choose between a mixed couple (woman and man) or a same-sex couple (woman and woman or man and man). Also you can register as a transvestite, transsexual or transgender.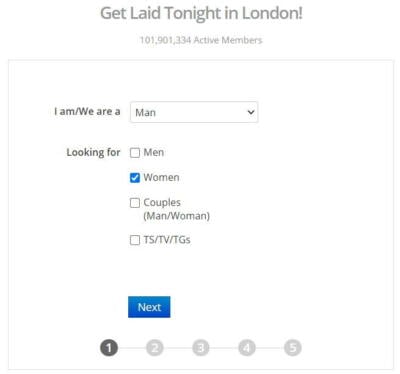 You can be whoever you want to be on this platform. You can search for a single woman, a single man, mixed or same-sex couples or TV, TS and TG. In a nutshell, you can register as any gender or with any sexual preference. That makes the member's pool of AdultFriendFinder.com a mixed and open-minded community. It doesn't matter who you are or what you're after.
The registration process step by step
First step is to type in your gender and what you're looking for. Then add your age and location. In step three you have to provide an e-mail address, a password and username. Then  you can enter a little more information about your sexual orientation, body type, race and marital status. You can also skip this step and provide those details later in your profile settings.
Lastly, you'll need to provide a short intro. This is a requisite and you can always add more details later. If you don't want to write up the intro yourself, you can ask for help. There is an instant writer that will do the work for you. You just have to pick some keywords and a computer will generate your text.
The member's pool of AdultFriendFinder.com
More than 80 million people registered worldwide
About 3 million members in the UK
Open-minded member's pool
More male users than female users
The dating portal AdultFriendFinder.com has now been online for over 20 years. Within this time the website has grown considerably. This is because they've managed to target a large group of users. The target group of this site is basically anyone with an internet connection looking for an erotic experience. Whether you want a special kind of experience or an old-school date, you can find it all here. The mixed member's pool and open-mindedness of users make AdultFriendFinder.com a special dating portal. Due to this and it's long standing history of success, it is now maybe the most popular casual dating website in this world.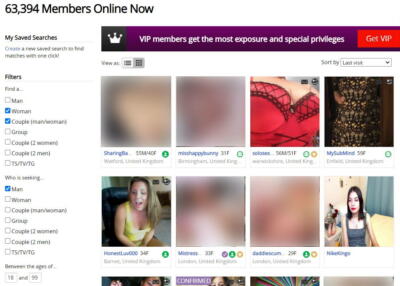 Currently there are over 80 million people registered on this website. In the UK, the erotic portal counts more than 3 million users. The larger part of the members area are male customers. Even though there are more men than women, it's still a great platform to find a female match.
Single lover or a professional service
Not all members are singles from your region. Some are professionals, but that doesn't mean you can't have fun with them as well. One way to get in touch with other members on AdultFriendFinder.com is by cybersex. You can either watch and make comments on a live video of a user, or you both have your live cams activated. If you want to get in touch with another user via a live chat, you'll have to pay for it.
TEST ADULT FRIEND FINDER FOR FREE NOW!
It's also usual to tip to the person who's hosting live video. Users can earn money with their erotic content. Due to this, you may get messages from other users asking you to pay to see their videos. It sounds like spam, but you can still choose whether you want to pay for it. If you do pay, you won't be disappointed. What's more is that there are even erotic actors or professionals and nothing stands in your way to meet them as well.
Getting in touch with new people
There are various ways to get in touch with other members on AdultFriendFinder.com. You can check who is currently online and add members to your "hotlist". This added member will get a notification that you've favourited them and may get in touch with you.
You can add people as friends too, as is common on a social media platform. In general AdultFriendFinder.com can be compared with a normal social media website. The only differences are how they chat and what they have in mind.
TEST ADULT FRIEND FINDER FOR FREE NOW!
Members of AdultFriendFinder.com don't want to mess around for too long usually.  The easiest and most promising way to get in touch is to start a private chat. To do that you can send an ice breaker message to a profile. This is a great tool if you don't know how to start a conversation. An ice breaker message is an automated message. If a user sends an ice breaker message, the other user will get a notification that an automated message has been sent.
If you start a chat with another member, it will be sent as a private message. This personal conversation is held in an internal system that looks similar to an e-mail account. To send messages to others, you will need a paid membership.
Comments and discussions
Get in touch with other users by joining a discussion in the community area. There you'll find various sections such as a blog, a magazine, groups, erotic stories and a sex academy. Another way to connect with other members is via a cam chat. AdultFriendFinder.com is filled with erotic videos. A lot of them are live broadcasts on which you can comment. So you can sit back and watch, comment, or have a live chat with the actor while they perform for you. You can also activate your own camera and have fun with a hot live video chat.
Dating on the run
AdultFriendFinder.com is available on mobile devices as well. You can find it on your mobile browser or download the app. The app is available for iOS and Android devices. Both the mobile and app versions provide the same essential functions as the desktop version. The app makes a lot of things easier. You can have a fun chat on your way somewhere. However, as the site is full of erotic pics and videos, we recommend you be careful in public places.
Design and performance
The design of AdultFriendFinder.com itself is nothing special. But that doesn't mean it's bad. The most used colours are white for the background and black for the letters. Some parts of the portal are in a blue colour. This colour is used for the customer service contact, the usernames and your current balance of points.
AdultFriendFinder.com is a very extensive website, with lots to discover. You can create your own live cam chat or join a live cam chat of another member. The performance of the portal itself is a bit slow. But we can excuse that as it has a lot to offer.  You may need some time to get to know and find all the functions. For example, in the section "My Stuff" you'll see over 25 different sub sections. Thanks to the simple navigation, it's quite easy to explore the portal and its features . The functions are easy to use and self-explanatory.
Settings, profile set up and search function
Sooner or later you'll need to add more information to your profile. It's recommended to upload at least one good profile picture. As stated on the website, profiles with pictures are more successful and get up to ten times more responses. Members of AdultFriendFinder.com are very open-minded and so are their profiles.
Your profile pictures can be revealing, sexy images of yourself, or standard pics that just show your face. Some user profiles only show erotic content, which goes to show how open-minded the users of AdultFriendFinder.com are.
When it comes to your personal information and setting up your profile, AdultFriendFinder.com proves again that it's one of a kind. Unlike other casual dating websites which don't have extensive profile information, on AdultFriendFinder.com, you can add lots of info in your profile. You can edit you profile in the "My Stuff" section.
TEST ADULT FRIEND FINDER FOR FREE NOW!
In this section, you can add lots of information about your appearance and your sexual preferences. You can let other people know about your lifestyle and what type of person you are. AdultFriendFinder.com even offers a purity test, additional questions and a personality test. This allows you to answer questions around sexual activities and interests, fantasies, sex toys, as well as your dreams & goals, entertainment, hobbies, work and so much more.
The extensive search functions
You can add a lot of information to your profile. We checked some profiles and found that lots of people share details about their sexual fantasies and personal thoughts. Have a browse through the members pool and read other profiles just for fun. AdultFriendFinder.com also gives you the chance to find your dream partner.
If you use the search function, you'll see six different filters. The first are about your gender and what you're looking for. Your age range and region are the next filters. The filters then go on to question your preferred timing and what kind of membership you should have. With regards to timing, you can choose from three days or less to three months or less. There seems to be a lot of filters, but we think the more the better. Plus you don't have to adjust them.
You can add more search options if you choose. In the "Advanced Search" section you can enter any other details that will help you find a match. Search for your most preferred things in a partner, including race, a well endowed man, a woman with large breasts and more. Make it as specific as you want! To increase your chances in finding someone suitable, provide as much information about yourself as you wish. However, it's important that you only provide true information.
The costs of AdultFriendFinder.com
Three different currencies for three different functions
A paid membership is needed to send private messages
Tokens are needed to send messages during a live cam chat
To watch videos and join live sessions you will need points
AdultFriendFinder.com is a very extensive platform with a lot of different features and functions. From personal chats via private messages to watching amateur erotic movies, anything is possible. As you have to spend money in different currencies, it's sometimes hard to keep track of. However, you can always check your bills and past transactions in your profile settings. You'll also find details about your subscription there and how many points/tokens you still have.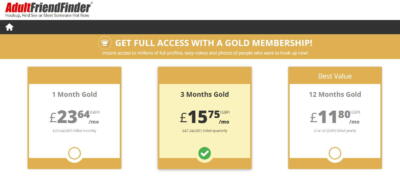 For a private chat with another member, you'll need a premium-membership. That membership is offered as a subscription.
1 month Gold costs £23.40
3 months Gold cost £15.59 per month
£46.77 for all three months
12 month Gold cost £11.68 per month
£140.19 for one year
Note: In the community section you will find an subsection called "contests". AdultFriendFinder.com announces winners for member's contests in this section. For example, the best erotic image on a work desk or a wet t-shirt contest. You can also join in on the fun, if you like, there's always a reward. As an example, first place may get a year's Gold membership.
Points
200 Points cost £2.34
500 Points cost £4.69
1000 Points cost £7.81
You will need points to enjoy a live broadcasts of other members. You don't need points for all available videos, but most users will ask for a tip first, after which you can join in on the fun. With points you can send tips, virtual gifts to your favourite members and bid on them to become their top-fan.
Tokens
100 Tokens cost £9.38
185 Tokens cost £15.63
500 Tokens cost £39.07
1000 Tokens cost £77.36
Tokens are needed to chat with models during a live session. They're required for both private and public shows. You can use them to physically connect with the "buzzmode" and sex toys in live videos. It's easy to top up your tokens balance automatically or you can buy them manually.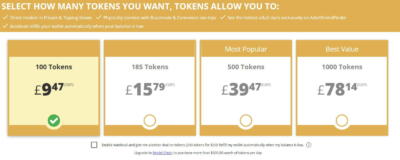 Our conclusion on AdultFriendFinder.com
The portal AdultFriendFinder.com is much more than a just a casual dating website. It is an extensive erotic portal where everyone is welcome and where you can find whatever you desire. You can have private chats with other open minded members. If you don't want to chat or date but want some entertainment, you can watch erotic videos and live sessions made by amateurs and professionals. You also have the chance to participate in the video in real-time, thanks to the live-comment section. If you want more than to just watch and comment, you can have a video chat with another user or cybersex.
There's so much more to mention about the portal. In the community you can join discussions about all kind of erotic topics or participate in different erotic contests. AdultFriendFinder.com offers anything you can imagine when it comes to erotica, and it's done in a good manner. If you are looking for casual dates, erotic videos, a platform to exchange sexual thoughts and more, this website is one of the very best choices.