International Cupid: Test winner "Matchmaker"
International Cupid is our test winner in the category of matchmaker. This online dating portal offers a lot of great services. On this platform, it will be as easy as pie to contact other members. The community is friendly and welcoming. It could be that this site has the highest number of international members. It allows you to find a match from your region or the other site of the planet. Thanks to their convincing service, international dating is exciting and a lot of fun.
Summary
Our test winner in the category of matchmaker
Great choice for singles who want a serious relationship
Highly regarded dating service
Smart matchmaking system
A dating network which is available worldwide
Part of the network has more than 30 reputable niche dating sites
More than 4 million registered members
Many active members in the UK
Diverse members´ pool with high expectations
Balanced gender-ratio
Smart features and functions
Completely trustworthy operator with more than 15 years of experience
Great costumer support which is highly regarded
highest standards of personal safety
Costs will occur for a premium-membership
InternationalCupid.com is a matchmaker for singles from around the world. The name of the site describes their offer very well. You can find new contacts from more than 30 countries and six continents. More than four million people are registered here, and the number of members is rising fast. Thanks to their huge number of members and great features, it is possible to meet your soulmate anywhere on the planet.
General details about InternationalCupid.com
International Cupid is a matchmaker. However, this dating site is really one of a kind. There are many great things to mention about this choice. First, this site creates a completely new way of online dating. Thanks to the internet, our world is connected. We can contact people from all over the world in real-time. On a daily basis, we used it to find information or for business. Why not use it to find a match who lives far away from you? Well, that is exactly where InternationalCupid.com comes into the game.
The online matchmaker InternationalCupid.com can proudly advertise with a large pool of members. More than four million singles are registered here. Those members are located all over the world. Regarding that, there are two things to mention. First, the online dating site allows you to find a match from another country or continent. Second, it makes regional dating possible as well. Many people from the UK have already joined this site.
TEST INTERNATIONAL CUPID FOR FREE NOW!
This matchmaker is a great choice those who are looking forward to meeting someone new. So, it is also possible to register and just make new friends. Casual dates happen from time to time as well. However, the focus is to connect people who really match with each other. To achieve that, a smart algorithm searches your match from all members. Thanks to the high number of members and the possibility of international dating, your chances are great. This site employs the best features of a common dating site and a matchmaker.
Long-lasting successful love stories
The operator of this online dating portal is Cupid Media Pty Ltd. This company is in the Gold Coast, Australia. One part of our reviews is to check the credibility of the operators of dating sites. This company has a great reputation. Cupid Media Pty Ltd., operates other dating websites apart from this one. They run a network of dating portals which are available in more than 30 different countries on six continents. Part of that network are niche dating sites.
International Cupid helps users find their true love, no matter where they are. This website is an international single dating market, with a good reputation. Members from all over the world enjoy the advantages of this site. It is a lot of fun to meet new people who live remotely from you.
Easy to use and a modern design
The appearance of International Cupid is solid and modern. This dating website uses the latest features to create the best experience for their customers. But it is not only about the design. The service, including all features, work solidly and are simple to handle. Thanks to the good overview, you will know your way around in just a few minutes. That might also be because InternationalCupid.com allows you to find your matches all by yourself. That is not a common thing on a matchmaker.
TEST INTERNATIONAL CUPID FOR FREE NOW!
Usually, you will only see matches that really fit to you, chosen by a system. That might make a lot of sense on the one hand. On the other hand, you might fall in love with a person who is not a perfect match, according to the information on your profile.
As this matchmaker is available internationally, it is possible to date people from all over the world. It might a great choice for people who travel a lot. Expats love this portal. During our research we found many positive reviews from people who work remotely. It is important to mention again that this website is also one of the top choices to find your match in the UK. All you need to do is register, which will only take a few seconds of your time.
The registration and creation of a profile
International Cupid is a matchmaker. So, it connects people who are looking for a serious relationship. To achieve that, a lot of information is needed. Of course, there are some members on this dating site who are simply looking for fun and friends. On other matchmakers, they would have to take a long personality test. Here, the registration takes only a few seconds.
To create a profile on this online dating portal, you only provide your name, an e-mail-address, a password, your age, and gender. After you have entered those details, you only click two more times. One time to agree to the terms and conditions, the other to register and create a profile. That is all you need to do. Then, it is up to you how many details you add to your profile. You can upload up to 10 pictures to your profile. This will increase your chances of finding a match by a lot.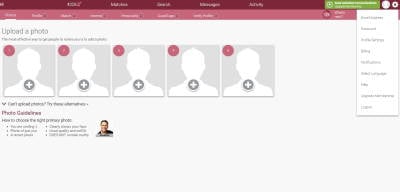 The quick and simple registration attracts a lot of people who are open-minded. Some are not looking for the love of their life. All some want is to meet new people from their region. But you can find a match from any place of your choice. The search filter allows you to look for singles in a certain area. The mix of open-minded people, love-seekers, and the variety of nationalities, makes the members´ pool incredibly special. It might be the most diverse community on a dating portal at the moment.
More about the process of creating a profile
The registration is as easy as pie. Later, it is up to you how many details you enter on your profile. Besides that, you can do two more things, if you want to become premium member of the site. First, you must verify your account. Second, you must purchase a premium-membership.
The verification of your profile does not work via e-mail. In your profile settings, you will find a section to verify your account. To do that, you can upload an image of your ID, passport or driving licence. The document must show your full name and a picture of you. If you do that, you can enjoy more features of the website. The premium-membership gives you full access to all features, if you want to become a real member.
As we see it, that is a great solution for everyone. So, people who are not sure about what or who they are looking for, also register here. Plus, thanks to the verification, there are no fake profiles at all. In the members´ pool, you will see a sign which shows the status of the user. In one glance, you see if this profile is verified, and if the user has a premium-account. Besides that, the operator runs a profile check-up from time to time. Inactive profiles will be spotted and marked as such.
How to set up your profile
You also have the option to register on International Cupid via Facebook. Either way, the registration takes the same time and needs the same amount of personal data. After that, you can add more details to your profile. It does not matter what you are searching for. We recommend you make some effort to create a nice and appealing profile. This will increase your chances of success. You can add more information like your age, location and appearance. Of course, you can add some more details about your hobbies, preferences and interests.
Additionally, you can upload up to ten pictures to your profile. We recommend that you upload at least two pictures of yourself. One picture should show your face. The other one should show your complete body. We should not have to mention that your pictures must not be blurred. Just pick two of your favourite pictures of yourself. If you are not sure, ask your best friend to pick them for you. Thanks to the images, other members of the matchmaker can imagine your appearance.
Regarding the profile pictures, there is one important thing to mention. You should upload at least one profile picture as soon as possible. There is the risk that your profile might be blocked after just a few hours. That is an automated check-up to avoid fake profiles. It might not be the best solution. However, if your profile is blocked because of that, just contact the customer support. The customer support is available 24/7 and will reply quickly.
The design of the platform
The design of InternationalCupid.com is modern. The whole appearance is appealing. Plus, the whole platform offers a great overview. White, black and red are used for the interface of the site. White is used for the background, black for the characters. The red colour is used to show the menu with all features and functions. Additionally, there are some special features which are displayed in a green colour. The features and functions of the website are easy to use. On the top of the interface, you will see different areas of the site.
TEST INTERNATIONAL CUPID FOR FREE NOW!
International Cupid is a matchmaker with many features. But you will not be overwhelmed by the appearance. The website´s design has a good overview which is the reason for the simple handling. It is a lot of fun to explore this portal and its functions. We recommend all new members to take some time to really get to know the site. We also recommend you take a little bit of your precious time to enter some details about yourself into your profile. As the registration takes only a few seconds, you will have enough time to introduce yourself.
After the registration, you will receive a basic-membership. This kind of membership is free and unlimited. If you uploaded a profile picture, this would avoid a suspension of your profile. Then you have all the time in the world to find out if you want to become a premium member or not. The basic-membership allows you to send messages. But, you can only reach out to premium members.
A global dating network on your phone
International Cupid is a modern matchmaker. The design and functions to find your match are the latest on the market. However, part of a modern dating website are apps for mobile devices. This online dating website offers an app as well.
You can download the app on your Android devices, from your app-store. People who use an iOS-device will have to use the mobile browser version of the dating site. However, the overview and the handling will be great anyway. The download is free, plus you can register from your phone as well.
The members´ pool of International Cupid
International Cupid can proudly advertise with a high number of active members. This matchmaker includes more than four million members who are located all around the world. That is the special thing about this website. This dating website offers many features to find new friends or a partner. The whole service is great, especially regarding the price-ratio performance.
TEST INTERNATIONAL CUPID FOR FREE NOW!
However, as with any dating portal, it is the community that makes the difference. This dating website is well-known for its international members´ pool. Other matchmakers have also got international users. Here, you can find a match from another country. Other dating sites are limited to your region. So, your matches will come from the same region or at least the same country. But here you can contact all members, anywhere, at any time. The actual purpose of this site is an international exchange.
The community on this website is quite active. According to reviews on the web, thousands of users are permanently active. Additionally, many more people join this site on a daily basis. Official numbers about the members´ structure are not provided. So, we had to find the information on the internet. The number of members is rising fast, especially here in the UK.
The gender-ratio seems to be perfectly balanced. There are not too many women or too many men. No data available about the average age of the members. But we assume that most of the active users are between 25-54 years old.
Language barriers – no problem!
On the matchmaker InternationalCupid.com, people from the United Kingdom, Asia, Australia, Africa, Europe, and the USA are registered. As mentioned before, this allows international dating on the highest level. Plus, the chances of finding an international match are greater than on a regionally limited dating site. Meeting new people from other regions is fun, but it can be difficult as well. Especially, if two different cultures and languages come together. Users who are looking for a serious commitment might have communication difficulties.
English is still the main spoken language. However, not all members have the same language skills to ensure solid matchmaking. The operator of the site got a simple but great solution.
TEST INTERNATIONAL CUPID FOR FREE NOW!
This website offers a translation service. Members with a platinum-membership have this service included. Other members with a gold-membership, can purchase the translation service per contact. It is a function which is used for international politics and businesses as well. That is one more proof about the great service of the site. Thanks to this feature, you can meet and chat with your true love without speaking the same language.
Find new friends or meet your love
International Cupid has a high number of members. So, choosing might be agonising. You have the option to scroll through the complete members´ pool. But with more than four million members worldwide, that would take a while. Luckily, International Cupid has a solid search filter which is simple to use.
If you have a basic-membership, you can use the search function. But, you will not have access to all filters. You can only set up the age, gender and residence. In general, the basic-membership gives you extensive access to the portal, if you do not forget to upload a profile picture. Because of that, we recommend you register here in any case, if you are single. With a premium-membership, you can set up the search filter very accurately. Then, the number of potential matches will be lower. But those matches could be your perfect partner.
As InternationalCupid.com is quite popular in the UK, there are many members. So, the chances of finding a match from that region are good. This is also good for people who are not located in the UK but want to meet people from there.
How to meet new people
International Cupid offers many good things. However, there is one fact which we really appreciate. You can send messages even with a free basic-membership. After registration, you can chat with every user on the site who has a gold or a platinum-membership. So, at least one of you will pay for a membership. A paid membership also shows other members that you are serious about finding a match.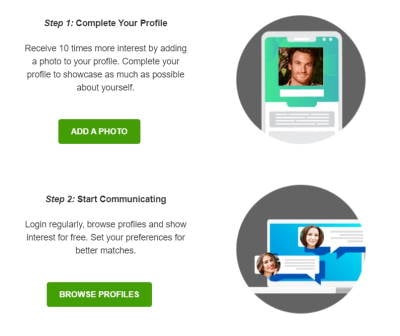 On InternationalCupid.com, you have only a few ways to make the first contact. The personal message is the easiest and the most promising. Alternatively, you can send a "like" to a profile. On your profile, you will see a favourites list. You can add other users to that list. Then you will not lose track of that person. That person will get a notification about this action of yours as well.
So, that might lead to the point where the other person takes the first step and sends a message to you. Plus, there is a selection of smileys that you can send. However, this is a matchmaker with an international community. We recommend you take courage and send a friendly and charming first messages.
The rates on International Cupid
The registration on International Cupid is free for all. Women and men can join this portal free of charge. Later, female, and male users must pay the same rates. So, it is not like other dating portals where women register and chat without being charged. With a free basic-membership, it is possible to do a few things. You can send likes, use the basic-search filters, and communicate with users who hold a gold or platinum-membership.
A gold-membership allows all features of the basic-membership. Of course, with this kind of membership you will receive some more advantages. It also allows you to communicate with all members of the matchmaker. Plus, you can have a live chat with the instant messenger and send and receive unlimited messages from all other users. You will see no more third-party ads, and you can hide your profile to browse anonymously through the profiles.
The platinum-membership contains all features of the gold-membership. Additionally, you will get access to more features. Thanks to a platinum-membership, you can rank your profile above others, double your profile space, and highlight your VIP-profile. You can also use the advanced matchmaking algorithm and use the translation tool.
The rates for the gold-membership
1 month ........... £27.99
3 months ......... £18.66 per month – billed in one payment of £59.99
12 months ....... £9.33 per month – billed in one payment of £119.98
The rates for the platinum-membership
1 month ........... £32.98
3 months ......... £21.99 per month – billed in one payment of £65.98
12 months ....... £11.00 per month – billed in one payment of £131.98
More information about your membership
First, we want to mention a tip. We recommend that you register for free if you are single and are looking for something new. It does not matter if you are looking for new friends or casual dates. However, you will get good results, if you are looking for a match for a serious relationship. In any case, the free basic-membership allows you to get to know this site. You can look for matches and send messages to premium-members. If you are convinced that this matchmaker is a good choice for you, you can purchase a premium-membership.
Another important note is to keep your deadline for termination in mind. Here, any paid membership will extend automatically, if it is not terminated in time. The deadline for cancellation is 14-days. If you miss this term, it will be renewed for the same period as you purchased before.
Our conclusion to International Cupid
International Cupid is a unique matchmaker. This online dating portal has a high number of international members. The mix of many potential matches and the smart features of the site, increases your chances to find whatever you are looking for. Here, all interests and cultures come together. So, people join the site to find new friends, or find exciting dates, but mostly to meet their match.
The price-performance ratio is great on this portal. Plus, the free basic-membership allows you an extensive use of the matchmaker. As we see it, there is no reason at all to not join this website, if you are single and want to find someone new. This portal can proudly advertise with a high success rate and many love stories.