The result of our FoxyOnes.com review: Our test on FoxyOnes.com turned out to be an insufficient dating website.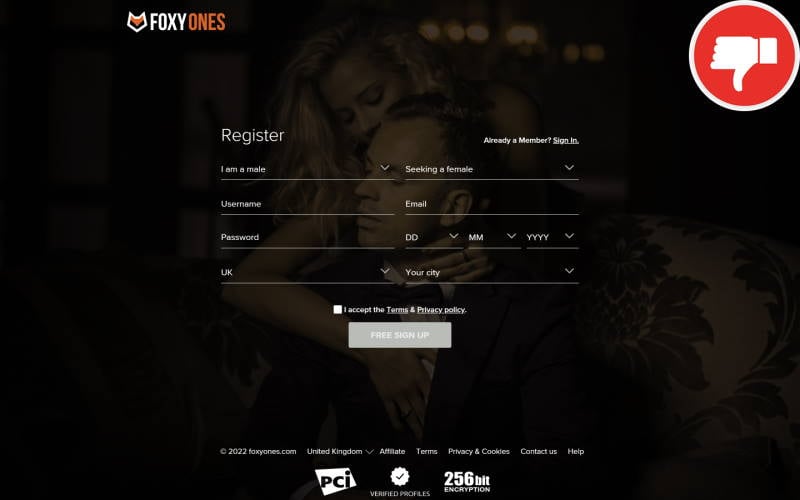 Report for FoxyOnes.com review
FoxyOnes.com declares to be the right place for everyone who is looking for friendship, a cyber affair, a friendly chat, or someone special to meet. It defines itself as a dating portal aimed at user "entertainment." Apparently, it allows people to get in touch with other members in their local area to share new and exciting experiences.
On the landing page, we read that all the profiles are verified manually to prevent the creation of fake accounts. This is quite ironic since the platform itself uses fantasy profiles to communicate with their customers. This is a classic fake chat scam, where a member is tricked into thinking that he is talking to a real person, to encourage him to purchase expensive "credits."
The company behind this rip-off is Hazhtag Media Ou. They are based in Tallinn, in Estonia. The previous reviews that we have written about them have proved that all their dating sites use the same questionable techniques.
Scroll down to read the details of our FoxyOnes.com review.
We recommend one of our winners!
We recommend one of our winners!
Details on the FoxyOnes.com review
The landing page of FoxyOnes.com does not provide the reader with any information whatsoever. A picture of an attractive couple serves as the background for the registration form. Nothing is said about the services provided by the platform, or the costs that will occur. However, at the bottom of the page, there is a link to the FAQ section, where a user can learn more about what he can expect from this portal. Here we discover that FoxyOnes.com is not free. A member has to pay for every single message that he sends by using "coins."
This is a very expensive payment method because every message costs up to £2. Luckily, the platform does not operate any recurring billing. Therefore, users have complete autonomy over their payments. One-time payments give the subscriber the possibility to test the platform, without being trapped in a contract which may be difficult to cancel. However, we recommend everyone to be extra-careful when spending their coins. The Internet is full of reviews by people who complain about having spent lots of money for a quick chat. Even if this is not a rip-off, it can quickly turn into an expensive experience.
System profiles
Everybody can choose to spend as much money as they want, as long as the website delivers what it promises. But this is not the case with FoxyOnes.com. As we can read in the Terms and Conditions, many profiles in the member's area are fake. They are controlled by fake chat operators who never identify themselves as such. Therefore, a user never knows whether he is talking to a real person or a fantasy character.
Here is an excerpt from the Terms and Conditions
We may use system profiles at our discretion to communicate with users to enhance our users' entertainment experience.
What do they do this for?
The result of this scam is that real dates are impossible. The only purpose of these professional animators is to entice users into buying expensive coins. To do that, they will prolong the conversation as long as possible. The longer the chat lasts, the higher are the profits for Hazhtag Media Ou, the Estonian operator from Tallinn, who run FoxyOnes.com.
The conclusion from our FoxyOnes.com review
FoxyOnes.com does not live up to the expectations of the user. As we proved with our report, the website is a fake chat scam. The majority of the profiles in the members' pool do not correspond to real people. They are created by the platform to deceive their customers and make them buy useless coins. But regardless of how much money a user spends, he will never have the chance to meet anybody.
Let us know your FoxyOnes.com experience in the comments as well.
We advise against registration and therefore recommend one of our winners!
We advise against registration and therefore recommend one of our winners!