The result of our TransAmorousContacts.com review: Our test on TransAmorousContacts.com turned out to be an insufficient dating website.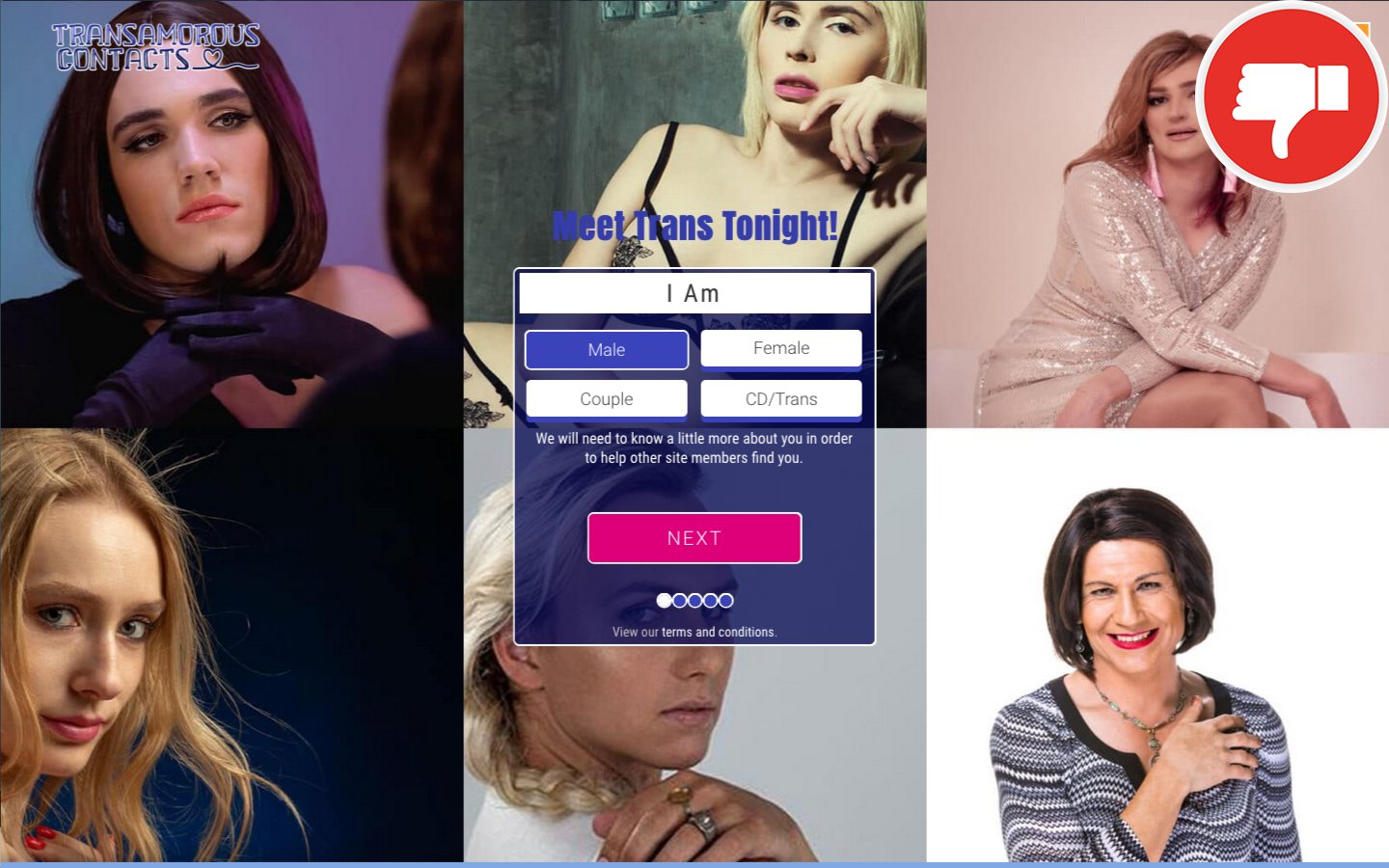 Report for TransAmorousContacts.com review
TransAmorousContacts.com is a dating site operated by Dublin-based Cintilet Limited, which already tells us quite a lot. TransAmorousContacts.com advertises free registration and gives several arguments for signing up on the landing page. According to the operator, all the profiles on TransAmorousContacts.com are genuine. We have our doubts. TransAmorousContacts.com appears to be a fake chat scam.
Right after signing up, there is not much you can do. As a non-paying member you are informed about received messages and uploaded photos, but you cannot see them. Only a paid VIP membership makes it possible to read and send messages. We create a blank test profile ourselves and receive several messages in just a short period of time. They are sent to us by fake chat operators who want us to upgrade our membership for money.
Scroll down to read the details of our TransAmorousContacts.com review.
We recommend one of our winners!
We recommend one of our winners!
Details on the TransAmorousContacts.com review
The photos of transsexual people on the landing page of TransAmorousContacts.com, show us what this dating site is all about. TransAmorousContacts.com is mainly a dating service for Australians, but you can find members from all over the planet. We decide to do research and sign up, hoping that TransAmorousContacts.com is not another rip-off. The operator mentions a VIP membership that is required to interact with others, without any limit. Signing up for the membership is not worth it, because TransAmorousContacts.com is a fake chat scam.
The VIP membership mentioned on the landing page is the only way to interact with the other members. Regular users get notified whenever they receive a message, but they cannot see what it says. This is part of the trick. If they receive many messages, the paid membership becomes more appealing. Fake chat operators make sure the users send several messages by flirting with them.
We found this in the terms and conditions
From time to time, the Company employees (or employees of its parent or affiliated companies) may create test dating profiles for the purpose of checking and testing the functionality of our Website and Service to improve the quality and user experience for its Users.
The operator admits to creating its own profiles that seemingly test the functionality of TransAmorousContacts.com. These "test dating profiles" are in fact fake profiles controlled by moderators. Users are supposed to pay a lot of money for a membership, even before being able to read the messages they received. The moderators appear to be real members. They send plenty of messages to the users who will then consider upgrading their membership.
A membership that does not seem to end
It is important to point out that the VIP membership on TransAmorousContacts.com is in fact a subscription. It requires a cancellation 5 days before the final date, otherwise it will renew automatically. This is nothing unusual for a dating site. TransAmorousContacts.com is not an obvious subscription rip-off.
The operator of TransAmorousContacts.com has experience when it comes to fake chat scams. Cintilet Limited is a Dublin-based company that is responsible for various dating sites. By operating that many scam sites, the operator manages to scam people with many interests. Because of the lack of user reviews, we do not consider most of them to be that popular.
The conclusion from our TransAmorousContacts.com review
TransAmorousContacts.com presents itself as a dating site for those looking for transsexual singles. In fact, you never know who you are dealing with here. Many of the other members are in fact fake chat moderators that can hide their identity by using fictitious profiles. All of this is done to sell the VIP membership to users. This is the only way to chat with other members.
Let us know your TransAmorousContacts.com experience in the comments as well.
We advise against registration and therefore recommend one of our winners!
We advise against registration and therefore recommend one of our winners!